It's a tough world out there for Instagram users, and Instagram growth is harder than ever. With 1 billion users on the platform, the competition is fierce and everyone is vying for more followers.
It is possible to grow your Instagram followers by yourself, but this can take loads of dedication, energy, and man-hours logged in front of the platform engaging with users and content.
In order to save time, using an Instagram growth service is the best option— there are many third-party companies out there that are willing to help you with your Instagram follower growth and take over the engagements that keep you up at night.
It's an attractive offer; who doesn't want to reclaim their time and get their workflow back in order? The more time you have, the better you can be at creating content, writing engaging captions, and devising a hashtag strategy.
There is no shortage of options when it comes to Instagram growth services; in fact, more than ever, they are popping up left and right. Choosing the right one will definitely help you get more Instagram followers.
Choosing the wrong one, however, can actually have negative effects on your Instagram and may even lose some of the Instagram followers you already have.
We've decided to take a look at all of the different options at your disposal and compile the best into this go-to guide to help you get the most out of your Instagram growth service and choose one that will deliver the best results for your profile.
Let's start by reviewing the best Instagram growth services out there today.
Best Instagram Growth Services
Here we're going to dive into the different services that are available to you when you want to get more real Instagram followers.
We will briefly describe what you can expect from the service and what type of results they can help you get in terms of Instagram follower growth and engagement.
You can then make an informed decision about what will work for your Instagram profile and which one will provide the best results.
Growthoid offers its clients the best in Instagram growth, providing a service that gets real, organic Instagram followers through engagements with users in your target audience.
You're provided a dedicated account manager that will take control of your account and perpetuate the engagements on your behalf.
Growthoid doesn't use any automation, bots, or fake followers to provide you with results; you simply provide your targeting instructions and your account manager will partner with you to provide real Instagram followers.
What's more, you also get a dashboard to monitor your progress and the account managers and support team are there to help you every step of the way. With flexible service on a monthly basis, no contracts, and organic engagement, Growthoid offers a transparent service for Instagram follower growth.
The Standard plan starts at $49/mo and the Premium plan is $99/mo., so you can decide just how much support and customization you need.
Growthsilo will provide you with an expert account manager to help with your Instagram follower growth. This account manager will engage with users that fall within the instructions you provide them, and they offer some very advanced targeting options.
You'll be able to target based on things like username, location, age, gender, and more. It's similar to Growthoid in that there are no bots or fake followers involved, just real people working to save you time and get more Instagram followers for your profile.
Growthsilo has monthly plan options that are between $49 and $99 per month, which is pretty standard pricing for most growth services.
3. ThunderClap
ThunderClap has two service options that may be of interest: one to help get more organic Instagram followers and one to help get more engagement on all posts.
ThunderClap has two separate recurring service options; if you want more real Instagram followers, you can select your plan and they will help you to generate interest in your account through engagements.
Another service that they offer is Instagram auto-likes for your posts. Every time you post, you will receive a set quantity of likes that are provided by the users in their in-house network, so you're gaining real likes as soon as your content is posted.
Because follower growth and engagement are both so important, this service is perfect for those looking for a consistent and overall solid strategy for their Instagram.
4. Upleap
Upleap used to provide users with an account manager that would help manage their Instagram growth and grow Instagram followers, but they've changed the functionality of their service and now they offer the delivery of followers instantly.
They will provide you with quick follower growth that they guarantee and have rave reviews about. You can select the quantity and after your order is processed, you will see your followers be delivered to your account.
You can buy anywhere from 100 to 1000 Instagram followers from Upleap, so it all depends on what your needs are when you use their services.
5. Jarvee
Jarvee is a windows-based Instagram growth service that works based on automation. You download software that will help you automate all of your Instagram engagements and interactions so that you can get more Instagram followers.
You will be able to automate a variety of tasks, including follow/unfollow, auto-repost, auto-like, and DM management. You can also schedule your Instagram posts, target your audience, and access premium customer support.
The regular plan starts at $49.95 per month and the professional plan is $69.96 a month. Jarvee also offers the option to use the software for other social media accounts.
6. SocialMeep
Social Meep claims to be the best Instagram growth service. It employs automation to help you grow your Instagram account. You will have a variety of AI-powered engagements that will occur through social meep, helping you to get more real Instagram followers.
Social Meep has an eye-catching website with a lot of interesting features, but they don't discuss much how they provide these things, which leaves a bit to be desired, even though there are extensive descriptions of the services in a general sense. All in all, their website is professional.
Their pricing follows the industry standard of $49 for basic and $99 for pro.
7. SimplyGram
SimplyGram makes a promise of 5,000 new Instagram followers on a monthly basis through a method that people call the mother/child method of Instagram growth.
What SimplyGram does is set up between 25-100 Instagram accounts that represent your brand. Once that's done, those accounts will DM hundreds of Instagram users every day to ask them about checking out your main profile.
This tactic appears spammy to the receivers of DMs, depending on what the messages say. The good thing is that SimplyGram uses targeting and algorithmic planning to interact with demographics that are likely to follow or check out your profile.
There are plans for SimplyGram ranging from $69 to $199 on a weekly basis.
8. Combin
Combin has two separate plans available for Instagram— Growth, and Scheduler. The Instagram scheduler will allow you to view, schedule, and auto-post your content, while the Growth side will help you get more Instagram followers.
The whole premise around Combin is that they help you engage with the profiles that you want to engage with at the rate of normal engagement. You'll be able to target certain users, leave comments that you create and Combin cycles through, as well as save searches that you've previously done.
They offer a free trial as well as plans for $15 and $30/month, respectively.
9. Mr. Insta
Mr. Insta is a known company in Instagram growth and they have been around for quite some time. Mr. Insta will follow profiles of a few accounts, and you'll then start to see results based on what Mr. Insta sets up for you.
You can also pay for followers that will be delivered to your account; Mr. Insta doesn't offer any insight on how they provide these followers. Their pricing packages vary depending on the amount of follower growth you need.
10. Social Buddy
Social Buddy's service promises their clients real followers, not bots or fake profiles. They will use the information you share to target different elements like niche, competitors, and hashtags. Social Buddy will then encourage these users to visit your profile and follow you.
In addition, they'll target influencers and people following your competitors to gain relevant followers for your Instagram. Social Buddy's services will run you $99/mo.
11. Ampfluence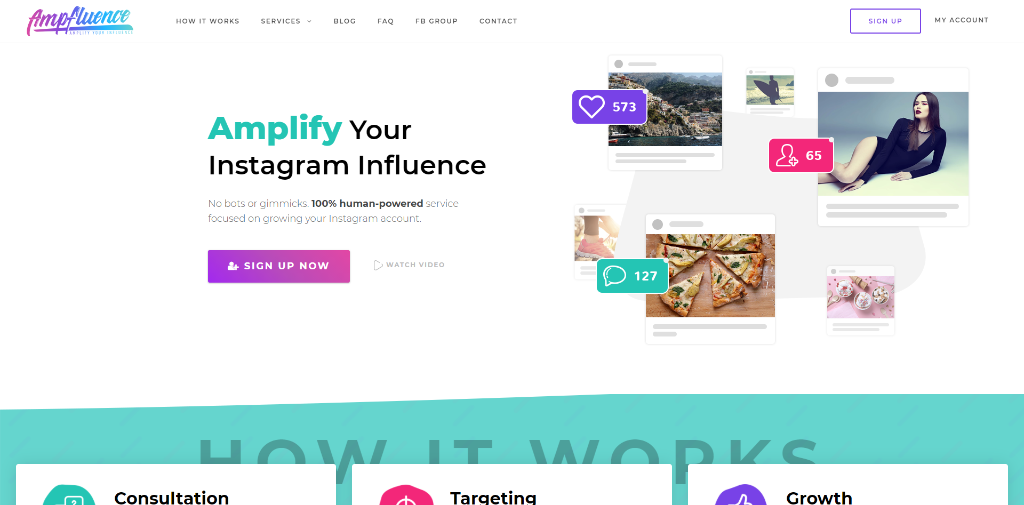 Ampfluence is a more comprehensive Instagram growth solution for those with a higher monthly budget. They will begin with a consultation to understand your audience and particular needs; they'll then research your industry and get started on engagement to grow your followers for Instagram.
They use interactions that are "human powered" to interact, view analytics, as well as reply to any accounts left on your profile. There are three plans: Engagement, which is $129/mo, Growth, which is $199/mo (includes hashtag research/reporting), and Growth x2 coming in at $299/mo with support and custom reporting.
To give you an idea, Growth averages about 250+ organic followers, with Growth x2 doubling that on a monthly basis.
12. Social Sensei
Social Sensei takes a different Instagram marketing strategy and they use micro influencers and celebrities to sponsor your content and get you more followers. They use loop giveaways that include many different profiles that buy into contests that require entries to follow new accounts.
They claim that you can gain thousands of followers within days of the giveaway going live. The plans range from $299-$999 per month with follower guarantees depending on the price point. If you don't get the followers, Social Sensei will continue working with no additional charge until you reach the promised follower amount.
13. Firing Table
An Instagram growth service promising organic follower growth, you can choose from a few different types of interactions.
Firing Table claims to engage with users based on your targeting instructions, saying that they work 24/7 to grow your account, indicating that they are using an automation service to do so. They allow you to DM new users or leave comments on Instagram users' content.
The plans from Firing Table range from $29.95/week – $79.95/week.
14. ViralRace
ViralRace gives you the opportunity to buy Instagram followers, likes, and views. With a network of over 500k people who earn money through interacting with you, ViralRace wants to help you grow your Instagram.
You can also choose the followers and engagements to be delivered immediately or more naturally over a period. The price depends on how many followers or engagements you want; they are some of the cheapest packages out there.
15. Instazood
A fun name and an interesting service offering, Instazood works to grow your Instagram account with a dashboard and different engagements. You'll set your targets via the dashboard and their bot will begin to engage with accounts that fall into those parameters.
They will take engagements such as DMs, posts, comments, viewing stories, and the like. You'll be able to view the metrics through the dashboard. The services they offer are paid for separately, so you're looking at:
Instagram bot: $11.99/mo
Auto DM: $11.99/mo
Comment tracker: $7.99/mo
Search tools: $7.99/mo
Manual promotion: $11.99/mo
16. Instamber
You can use Instamber not only on Instagram now, but also on TikTok and Twitter. You can decide whether you want a manual growth option for Instagram or a bot option. With an "intelligent target system," the bot will know just what type of users to engage with through likes and comments.
Targeting options include hashtags, location, similar accounts, and a few more. If you prefer, you can also buy packaged Instagram followers through the service to help you get a quick boost, although results will be minimal through this type of strategy.
The Instagram bot costs roughly $15/mo and the pricing varies if you're buying packages in bulk.
17. Buzzoid
A growth platform that promises followers and likes in minutes, Buzzoid is a company that can help you to get a variety of Instagram engagements. They deliver your order within an hour of purchase or will give you your money back.
They don't offer any details on how they provide these Instagram followers and engagements, but you can choose packages based on your needs and can even get up to 5,000 Instagram followers through their services.
18. Nitreo
Nitreo is a platform that will work to gain you organic Instagram followers for your profile. Nitreo will access your platform and after you specify your niche, Nitreo will work continuously through automation to provide you with Instagram followers.
They use methods like follow/unfollow, Instagram story views, and more. The main plan runs $49/mo with the Speed plan at $79/mo.
19. AiGrow
AiGrow, as the name suggests, is an automation-based service that uses artificial intelligence to get you more Instagram followers. AiGrow uses a mix of liking and follow/unfollow to interact with Instagram users in your target audience.
You can target users based on hashtags, locations, and followed accounts, as well as control the interaction speed of AiGrow.
There is a free plan you can use with AiGrow, and then the plans will begin at $75/mo paid yearly; they promise a minimum of 300+ followers every month. If you want a dedicated account manager, they can provide that for $150/mo.
20. Skweezer
Another fun name for Instagram followers, Skweezer allows you to buy Instagram followers, likes, and comments. The followers that Skweezer provides are said to come from within a network that Skweezer pays users to be a part of, allowing you to get real, risk-free Instagram followers.
Choose the package you want to buy, complete your purchase, and your order will be on your way. The pricing for Skeezer depends on the engagement and the quantity that you want to order.
21. SocialFollow
Through SocialFollow, you'll gain access to a network of similar users, and you follow each other based on the selected interests at the time of sign up. You have to be an active participant in following here, but they claim you'll get more followers than you take on.
If you follow 10 people, for instance, you'll get 50 followers in return. SocialFollow users are said to gain up to 1,500 new Instagram followers monthly with zero cost involved at any point. You have to download software to use the service, which seems a bit odd.
22. iDigic
iDigic is an Instagram growth company that wants to help you "turbocharge your brand's exposure" through packages of followers, likes, and views. They focus solely on Instagram growth packages so they don't have any cross-platform services.
They promise with each package that you'll access:
Guaranteed instant delivery
High-quality followers
No password required
24/7 live chat support
There isn't any description of how iDigic provides you with real Instagram followers, but their follower packages are fairly affordable so they may be something that can help your Instagram growth if you're just starting out and need a quick solution.
23. Path Social
If you're looking for real, organic Instagram followers, you may want to check out what Path Social has to offer. They have a lot of success stories on their website from previous clients, and they claim to have worked with over 24,000 influencers and brands.
They help you to build your Instagram community with AI growth that doesn't include bot accounts or fake accounts. There are two different pricing plans that you can access with Path Social, one for $69/mo and one for $49/mo.
They promise:
Guaranteed results
800-3,500 followers depending on the plan
LA team and support
Growth within two days
The follower ranges that Path Social offers seem very high for an organic growth service considering that they can simply engage and generate interest around your profile, but if it works, you can expect to see levels of acceptable follower growth.
24. SocialMeep
SocialMeep is a service that is similar to others on this list in that they claim to be able to help you get more real Instagram followers through organic methods and using automation. They also claim to avoid bot use and fake results, offering you the best of Instagram growth.
Social meep has some additional tools like a hashtag generator as well as some content ideas and a story viewer to help you with different aspects of your social media strategy. Claiming to have over 55,000 successful clients and a lot of positive testimonials on their website, SocialMeep also makes some big claims about the effectiveness of their services.
15x more effective than Instagram bots? It seems a bit hefty to claim that, but we'll leave that up to you to decide. SocialMeep offers two plans for Instagram growth, one at $49 and one at $99 with limited information about the difference other than the Pro plan mentions turbo speed.
25. Managergram
Managergram bases their Instagram growth service around helping you to get more followers, likes, views, and comments through different packages. You can buy Instagram followers in packages ranging from 500 to 20,000, and they claim that these are real followers, although they don't describe the methods by which you'll gain them.
With these packages, you'll get:
Delivery start within 24 hours
Dedicated client support
No password required
You can buy packages on a one-time basis or monthly if you so choose. They have a satisfaction guarantee of 30 days to protect your purchase. They also have an Instagram growth plan that will combine their packages of likes, followers, and views for an all-in-one Instagram growth delivery. This is a monthly subscription and the plans start at $49/mo with two other price points at $149/mo and $299/mo.
26. Tree Frog Social
Tree Frog Social offers you the chance to subscribe for the first month for $1 so you can see how they can help you grow your instagram account. They have a chatbot that is available to chat with on their website and a vibe that makes you wish you were at the beach.
They use your competitors' accounts to try and direct users to your profile and help you to get more followers. Tree Frog Social offers three different packages that range from $29.99 to $74.99 per month.
27. Twicsy
If you want to buy packages of Instagram followers from an Instagram growth service, Twicsy can offer you that. They are a service that will offer you packages of Instagram likes, followers, and views to help you boost your reputation and account.
You can buy followers in packages of up to 5,000 followers and they claim all packages include high-quality followers with fast delivery and no password required. There are no methods mentioned on how they get the followers.
28. SocialPilot
SocialPilot aims to help you with your Instagram growth through a suite of tools that can optimize your Instagram performance and boost your strategies. You'll gain access to features like:
Cross-platform management and post scheduling
Analytics, monitoring, and reports
Social inbox for easy messaging
Social media calendar
Bulk scheduling
Post boosting
Content curation
Visual support
If you're looking to increase your social media marketing efforts on Instagram and get more followers through a strategy that will be around for years, check out what SocialPilot can offer you. Plans range from $25.50-$127.50 per month.
29. Sprout Social
Sprout Social is a comprehensive Instagram management tool that offers a plethora of features that can help you with everything from Instagram strategizing to analytics to finding out more about how to grow your follower count with users in your target audience.
You can use Sprout Social's listening tools to understand different insights about topics, industry trends, and more to tailor your strategy toward Instagram growth in the long term. You'll get things like:
Audience analysis
Consumer research
Influencer recognition
Sentiment research
Campaign analysis
Competitor comparison
Trend identification
And more
This is just one of the tools that Sprout Social offers, and while they're not an Instagram growth service based on automation, they can be incredibly effective in helping you build a real, targeted follower base that turns into a loyal community.
Depending on what you choose, you can access extensive Sprout Social tools for between $89/mo-$249/mo
30. Mr. Insta
Last but not least, Mr. Insta has a variety of different services that can help you to get more Instagram followers and engagement. They have a free followers program that requires you to engage with and follow users in return for followers, which may be a bit tedious, but they also offer paid premium services to help you get more Instagram followers and engagements.
They offer a partner program with UpRell for organic Instagram growth, but their packages are incredibly expensive for what it offers: $349/mo, $549/mo, and $1,499/mo, which may be above the budget of most users.
Best Instagram Growth Service: The Good, the Bad, and the Avoidable
The principal goal of an Instagram growth service is to help its clients get more Instagram followers. This is not news.
However, the method that the Instagram growth service uses to gain those followers is of primary concern; it's also important to know what kind of followers you will gain and what to expect from those followers in terms of engagement.
If you use one of the best Instagram growth services, it will provide its clients with real Instagram followers that they obtain through organic Instagram growth strategies. After all, nobody just wants a hollow Instagram follower count with users that don't engage at all.
When an Instagram growth service isn't serious about providing quality, you run the risk of your Instagram account coming off as spammy and salesy, which will likely turn off potential followers and can hurt your reputation in the long run.
In addition, if you go with a growth service that doesn't use organic strategies, you can even be banned or disabled by Instagram for violation of community guidelines.
The main goal should be to work with a growth service that will engage with the right users in order to promote more organic Instagram engagement and even more business results such as lead generation and conversion.
Follower growth is the main goal, but the best Instagram growth service should also:
Save you time: you won't be doing any engaging with users on Instagram to gain more followers— they'll take over that for you, giving you hours of your time back to focus on other important tasks.
Improve engagement rate: Instagram's algorithm is based mainly on engagement, so the more user engagement you get on your content, the more reach you will have. This is also vital if you are looking to gain brand sponsorships or ambassador spots.
Boost your social cred: your follower count will grow, and this will help you to have more authority in your specific niche on Instagram, building your reputation and giving you more opportunities in the way of sales, collabs, and features.
Increase sales: in addition to a stronger reputation, if you're a brand looking to boost real-world results, you should also be getting relevant followers for your Instagram page that will actually be interested in your products. When these users see your content, they'll be more likely to engage and take action.
Boost client satisfaction: this mainly applies for social media managers or marketing teams, but when you work to grow your client's Instagram account, you can provide them with better results when you use a solid Instagram growth service.
There will be little room for doubt when you work with the best Instagram growth service; they'll be able to provide these results and then some.
The next section will focus on the qualities you should look for when determining whether or not an Instagram growth service is reputable enough to provide you with the results you need.
The following 8 elements will help you make the decision when looking for the best Instagram growth service.
1. Use the Best Instagram Growth Service that Provides REAL Followers
It goes without saying, really, but you have to work with an Instagram growth service that will provide you with real followers. Shady Instagram marketing companies have a bad reputation for providing ghost followers— users that are fake or bots that don't engage at all.
You have to think carefully about what type of followers you'll gain and the type of accounts that will begin following you. You need real growth and you need more engagement. Ghost followers won't bring you that, let alone visit your website, buy your product, or share your content.
You want a growth service that has your best interest in mind, helping you get real Instagram followers, in turn boosting your business results.
Avoid These Three Types of Instagram Growth Services
There are three serious red flags that you should keep an eye out for when deciding on an Instagram growth service:
Guarantee of a follower quantity
Preloaded accounts with thousands of followers already there
Services that want you to buy Instagram followers in bulk
Let's expand on those red flags so that you can identify them in the real world.
"Guaranteed" Number of Followers
The dead giveaway that an Instagram growth service isn't legit is if they offer you a set number of Instagram followers. If this is the case, run the other way and don't look back— there's nothing for you there.
If you are using a true organic Instagram growth service, the user decides to follow you; the Instagram growth service solely makes the connection. There's no way that they can promise a set number of real Instagram followers. They don't control people.
It seems like common sense, but many people really want to believe them and put their faith in them. This is how they stay in business. If you do find that they meet a specific number of followers each month and it's always exactly the same, it's likely they are sending you ghost followers.
Preloaded Accounts
Another common way to gain more Instagram followers is to buy an Instagram account that already has thousands of followers when you acquire it. Sounds great, but not so fast.
Let's assume first that these are real followers. What likely happened is that someone built up the account and then sold it, leaving the followers there. You'll acquire the account and start to post your content, but are those followers guaranteed to actually be interested in it?
Absolutely not. They'll likely be very disengaged or even stop following you altogether.
Let's say that the account was just loaded up with fake followers that are passed off as real ones; if this is the case, you'll still get no engagement and you'll likely lose those followers because Instagram clears them out.
Don't waste time on this type of deal— it's not likely to pan out and you'll just be throwing away your investment.
Buying Instagram Followers in Packages
Last but not least, there are plenty of companies out there that claim to send you real Instagram followers in bulk.
If this were really the case, wouldn't everyone be doing it? There are two possibilities here:
They send real accounts that have no interest in your content and your engagement tanks
You get a bunch of fake followers that will eventually fall off of your account and tank your engagement as well
Either way, your engagement tanks— they want you to buy a bunch of fake engagement from the same company that sold you the fake followers. This is just a cyclical trap that you get stuck in, so don't go for it.
It can be tempting to go for such a shortcut when it comes to getting more Instagram followers, but at the end of the day, quality is much more important than quantity. It's better to have 200 real Instagram followers than 2,000 fake ones with only a handful of likes on your posts.
It will also throw off your analytics so you can't understand your audience nor how your content is truly performing with your real followers. No good.
Finding the Best Instagram Growth Service
So, now that we know what not to look for, what should we be looking for when you need an Instagram marketing service?
There are some key things you want to find:
Work with a company that explicitly mentions organic Instagram growth. These companies understand that natural methods of engagement and interaction can help draw the right followers to your account. This requires you to do your part by posting attractive content and using the right targeting instructions so that they can find the users that will most benefit you.
Look for companies that mention real Instagram followers. You don't want any ghost followers messing up your profile and then falling off over time. No matter if you have 10 or 10,000, you won't see any improvement with fake followers.
Only work with companies that actually explain how the service works. Buzzwords are everywhere online these days, and companies know how to sell their services without telling you a single thing about how they work. Make sure you understand exactly what the service will provide you and how it's going to happen.
You want to work with an Instagram growth service that is transparent about its operation, so let's talk more about how the service should work in the next section.
2. Carefully Examine the Methods that the Instagram Growth Service Uses
Instagram growth services employ a particular tactic for growing your Instagram followers organically. There are a variety of ways that this can be done, including liking photos from users in your target audience, following said users, sending auto DMs or auto commenting, viewing relevant users' stories, among others.
There are benefits and downsides to each of the methods, and we're going to take a look at them a bit more closely to better understand how they might relate to your own Instagram goals.
The Likes Method
By far the most common method, most Instagram marketing services will work to get you more followers by liking the content of users that fit within your target audience. It's the most effective and safest method of Instagram growth.
If you're working with an organic Instagram service, they're likely to use this method to help you get more real Instagram followers.
You want to ensure that you understand what the range of action is as well so that you know exactly what the service is going to be doing in your name.
There should be enough engagements happening so that you can see results, but not so many that your Instagram gets flagged for suspicious or irregular activity.
Instagram sets engagement limits on each individual Instagram account; these limits are not disclosed, so it's important that the growth service only takes action that would be similar to the action of the user.
Liking content of Instagram users is very simple and gets you noticed by potential followers, not invading their space or coming off as incredibly spammy. With that, it does deliver slower growth, but this is still the best way to grow your Instagram followers.
It's also much better to delegate this work to an Instagram growth service instead of doing it all yourself, as it's incredibly tedious and takes a lot of your precious time. To grow your Instagram, it takes a lot of time, dedication, patience, and persistence.
The Follow/Unfollow Method
Another method that tends to be successful in growing Instagram followers is the follow/unfollow method. Users see that you followed them, are likely to check you out, and return the favor if they like what they see.
This method requires good targeting; otherwise, you're not likely to see results as accounts will have no interest in following your particular profile.
Some problems with follow/unfollow: you are likely to lose followers with follow/unfollow. It's common that many people follow your account initially, and then they unfollow you after a few days.
A second potential problem is that they don't interact with your content; since you followed their account, they may have simply followed you back out of obligation.
Finally, when you use follow/unfollow, you get placed on Instagram radar because it's a well-known Instagram growth tactic that is, quite frankly, pretty obvious. It's better to use more organic engagements such as liking content, as this is a common action that people do all the time on Instagram, and not just to gain followers.
The Auto-Comment or Auto-DM Method
The final method, auto-comments or auto-DMs, probably sits in the middle of both liking and follow/unfollow in terms of results, but is by far the riskiest and inauthentic way to gain more Instagram followers.
It can severely damage your reputation due to the spammy nature of these interactions, leaving a bad taste in many users' mouths. Instagram is also likely to block or ban your account functions due to suspicious or bot-like activity.
Auto-commenting for Instagram follower growth is particularly bad because not only will the user see your interaction, but also all of their followers. If you leave an irrelevant or even insensitive auto-comment on a post, it makes you look bad.
Nothing worse than seeing a "so cute! I love it!" on a post that's meant to be somber or serious.
Likewise, automatic direct messages for Instagram follower growth is just as bad; people don't enjoy receiving a bunch of spam messages, especially when a direct message is a more personal and intimate way of reaching someone.
Both of these tactics are too spammy and generic for anyone to take you seriously, so even if you have the best intentions, the user will likely write you off on principle.
If you work with truly best Instagram growth service on the market, they won't be implementing auto-DM or auto-comments.
3. Determine the Extent of Targeting Options the Instagram Growth Service Provides
When choosing an Instagram growth service, one of your main concerns should be what type of users they engage with and what followers you'll be receiving. This is done through targeting instructions, so you need to know how the IG growth company targets the right users.
If the company doesn't target users according to your brand and specific instructions, you're unlikely to see growth that will benefit your engagement and real results. Getting followers is great, but when they don't care about your brand and don't engage, they're basically useless.
Some less professional Instagram growth companies will simply interact with any type of account out there; this is not what you want!
You want to ensure that the Instagram growth company that you work with focuses on your specific targeting instructions and brings in users who fall within certain parameters; it makes zero sense to engage with anyone outside of your target audience.
For example, if I'm a brand of women's clothing that targets women in my local area between 15-35, it makes no sense to market to teenage boys or men in other countries. I need my local, target demographic to take notice.
You need to have a wide range of targeting options to get the attention of the right users, so the best services will allow you to target through elements like:
Location
Age
Hashtag
Accounts
Some growth services will even help you understand how to target effectively and how you can get the most from their service. If something isn't working or you need help, you can contact their support team or your account manager and they'll give you some guidance.
4. Pay Close Attention to the Filtering Options Provided by the Instagram Growth Service
You want to have solid targeting options, but you also want to ensure that you aren't engaging with the wrong users.
It's difficult to prevent even the very best Instagram growth services from reaching users that aren't in your target audience, which can lead to you engaging with accounts that aren't related to your content.
Some Instagram growth services offer blacklist features, meaning they won't engage with certain accounts. Some of those filters include:
Ignore private accounts
Ignore inactive accounts
Ignore new accounts
Profanity filter
Ignore suspicious accounts
Gender filter
Business account filter
Username filter
Foreign language filter
It's good to know how you can avoid following or engaging with certain users on Instagram.
5. Be Aware of the Service Dashboard
There are some Instagram growth services that don't offer a dashboard, and most of them that provide top results will offer you some way to check up on your results and see what's going on with your Instagram growth.
Some dashboards will also allow you to change up your targets and make sure that you're reaching the right audience; you'll have full control over that.
Even if there is no dashboard, that doesn't mean the service is a total bust— some services offer account managers that do things like this for you; you can be in contact with them and they will provide you with additional analytics on how your growth is going.
It is convenient, however, to be able to view the information yourself visually.
6. Evaluate Level of Customer Support Provided by the Growth Service
Because Instagram is quite strict and finicky with how accounts engage, you want to make sure that you have an Instagram growth service with good support. You really need to be able to get a hold of someone if you find that some element isn't working quite right.
These are some things you should look for in terms of Instagram growth support teams:
FAQ readily available and detailed on their website
Live Chat
Dedicated customer support team
Support videos
7. Weigh Pricing and Quality
The final thing you should consider is how much your budget allows for and how much you can actually pay. In addition, you want to consider the price versus the value.
As you can see from this list, there is a wide range of price points, going from as low as $5 all the way up to $999+ per month. You want to keep your specific goals in mind as you decide which service to use.
Are you looking to get real Instagram followers? Remember the expression— you get what you pay for. Does that mean you have to buy the most expensive package? No. But you should look at the details of the service and ensure that you get enough value to reach your goals.
Look for Instagram growth services that provide multiple pricing tiers so you can choose the level of support that you need with a plan that meets your budget.
What is the Best Instagram Growth Service in 2023?
How much do you care about the quality of your Instagram followers? This is the main question that can determine the "best" Instagram growth service out there.
If you want real followers that can help you grow your account and are serious about Instagram marketing, you want to continuously grow with an organic Instagram growth service like Growthoid.
It's invaluable to have an expert working for you and using your specific targeting instructions to deliver the best results possible. Automation hasn't worked for years, so using a manual service is the best way to go.
Growthoid is the best Instagram growth service on the market right now.