5+
Growthoid had changed the game for Instagram automation

4.5+
This service has to be one of the best, tried and tested

5+
Top quality customer onboarding and delivery in 2021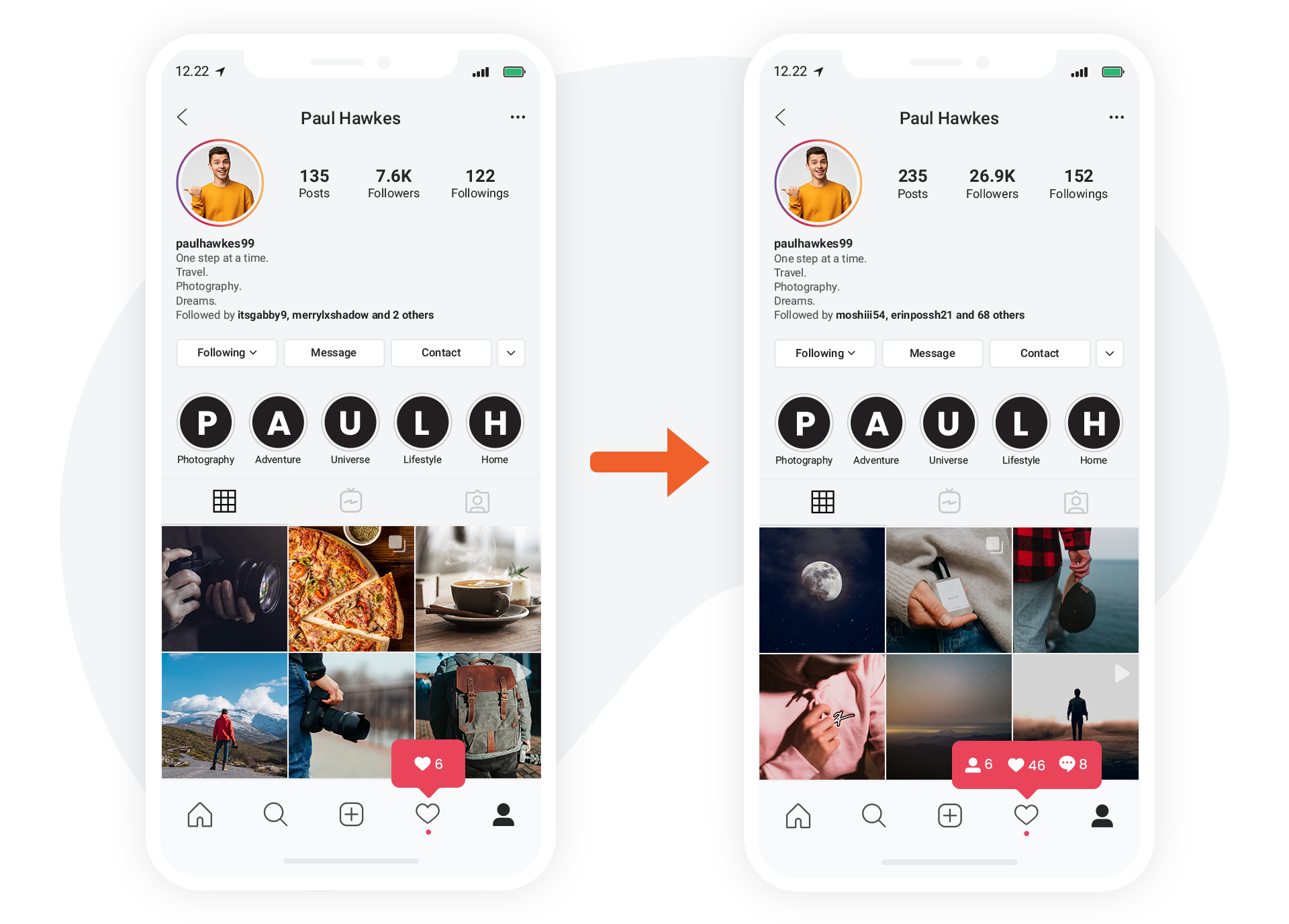 Focus on what really matters. Let's Automate!
Growthoid allows you to focus on creating high quality engaging content, while we take care and automate your campaign. Your dedicated account manager will take care of the optimization while you watch the results flow.
Start getting growth that matters. Automation that delivers relevant, real targeted followers backed by data.
We pride ourselves in producing success for our clients and help grow a real fanbase, with years of development in Instagram automation we are sure to go above and beyond.
Get a competing edge on your competitors
We like to look at Growthoid as your secret weapon, automate your growth 24-7 with the most advanced Instagram automation tool available, level up your Instagram game and watch your profile pass your competitors' Instagram.
Instagram Automation – Should You Use it in 2021?
Instagram automation became a very popular tool a few years ago, but is it still possible to use it nowadays? There are many different opinions about Instagram automation, and it all depends on who you are talking to.
It also depends on what function you are using automation for. One of the most common intentions is to get more real Instagram followers, and people are serious about doing this through any means possible. Thus, brands, influencers, and businesses use Instagram automation in hopes of getting active followers more quickly.
While this was a very effective and viable opinion in the past, what does it do to your account now? It's a fine line between growing real followers and polluting your account with spam and the possibility of being flagged by Instagram.
For this reason, it's important to know how to navigate Instagram automation. After you read this article, you'll understand:
What Instagram automation is
How to gain more followers without automation
Safe taks for Instagram automation
Pros and Cons of Instagram Automation
Your brand's safety and reputation is of the utmost importance when considering Instagram, and you don't want to participate in any actions that can harm that, as you've worked hard for it. Let's get started!
What is Instagram Automation?
It's a term that gets thrown around a lot, but what is really considered Instagram automation?
Instagram automation is defined as the use of pre-programmed, non-human interactions on your Instagram by a third party software, including managing your account tasks, engaging with users, as well as completing tasks on your account.
So, we can see that Instagram automation goes beyond just trying to get more Instagram followers; you can also use Instagram automation to manage and complete tasks on your Instagram.
In essence, automation can be broken down into two different categories:
Services that engage with users and deal with front-facing interactions (likes, comments, views, etc).
Services that work on the back end, completing tasks such as post publishing or managing your account via analytics, etc.
So, are both of these types equally safe (or unsafe)? We will examine that exact question shortly.
If you think about type 1, Instagram engagement automation, we can draw on personal experience. Have you ever seen what you feel to be an Instagram bot or automated spam on Instagram? It's likely that you have, as it's easy to spot.
Perhaps you've seen odd comments that look spammy on other accounts, or even your own; perhaps you have seen some random views on your story with very weird-looking, or even inappropriate, usernames. Bots and Instagram automation comes in all different shapes and sizes, and it has a dark side.
Using Instagram automation to interact with users on the front end comes off very spammy and inauthentic; anything that seems inauthentic on Instagram is targeted by the platform itself.
A few years ago, roughly around 2017, Instagram began to notice that Instagram automation was having a negative effect on the user experience of Instagram, so they took quick action.
Since then, they have been battling users in trying to get them to stop using Instagram automation that creates inauthentic and spam activity.
Not only that, Instagram will flag your account if you are using these types of services, and they have even caused certain companies that were very popular for Instagram automated growth, like Social Captain, to close down.
When you go to the Social Captain website, you will still see their beautiful and informative blog, but when you try to click on pricing options, it will direct you to a page that says, "Social Capitan is no longer in operation."
And they're not the only one— many successful Instagram growth services that ran on automation were effectively pushed out of the market because they couldn't operate effectively with Instagram's new controls and prevention methods.
That means that for growing your real Instagram followers, automation isn't the best choice. There are still some safe types of automation, which we'll talk about later, but before we do, let's find out how you can grow your Instagram followers without Instagram automation.
Best Alternatives to Instagram Automation for Follower Growth
Since Instagram automation became a targeted no-no, other companies and services have been looking for ways to perpetuate follower growth, and to even reinvent the wheel. We've got two of the best ways to help you boost your Instagram followers without automation.
Manual Growth Services
Growthoid can help you to grow your real Instagram followers organically, with no automation needed. This is a huge benefit of the Growthoid service, because it means your account won't be flagged with Instagram yet you can still save time by having someone else in charge of your engagements.
When you use a manual growth service like Growthoid, you won't be at risk of flagging Instagram as all of the engagements are done by hand, and they aren't going to appear spammy or bot-generated.
Not only that, you can get much better-targeted results with a manual growth service; Growthoid uses dedicated account managers for each of its clients in order to follow specific targeted instructions; this helps clients generate not only more interest in their profile but gets the right people's attention.
There's nothing worse than using a spammy automation tool that brings in a bunch of new, random followers that won't be interested in your content. This fills up your account with inactive followers, and ultimately won't gain you better engagement results, which is important for successful performance against the Instagram algorithm.
Don't waste your time trying to use an automated service for your follower growth; take advantage of hand-tailored services like Growthoid to keep your account healthy and save time, allowing you to focus on what really matters— your content strategy and post-performance.
Hashtag Generators
Another risk-free way to grow your Instagram followers is to use a hashtag generator. When you use a hashtag generator, you're taking advantage of the best way to make your content discoverable— hashtags.
Hashtags are very important for Instagram success because they allow your content to be discoverable by many different users. When you use hashtags on your content, it goes to specific hashtag feeds, allowing anyone who views or follows that hashtag to see it.
The key here is to know which hashtags to use and which ones gain the most visibility from your target audience, and that's where a generator can help.
It's not uncommon for users to implement hashtags that are overly general, such as #goodtimes or #adventure; ultimately these won't bring you any targeted growth because these hashtags are used across many different niches, by many different content producers.
Hashtag generators can help you to generate hashtags that are ultra-focused on your target niche, giving you more specific options that can drive relevant results as opposed to a hit or miss strategy that won't get you exactly what you're looking for.
The top benefit of using a hashtag generator is that your posts won't be negatively affected at all because hashtag generators don't engage with your profile or your content; you won't provide your password, and you will be the one implementing all of the suggestions that the generator gives you.
The cool thing about a top hashtag generator is that it allows you to create sets, so you can keep your hashtags organized and it saves you a ton of time when you're ready to post; you just simply copy your set and then post it into your content.
Make sure that your profile is set to public, as using hashtags with a private account will only allow your followers to see your content in hashtag feeds, which won't get you any new visibility.
Backend Instagram Automation
So, front-facing Instagram automation is not recommended these days due to the strict policies of Instagram and their terms of use. That's not to say, however, that you should completely discredit automation altogether.
There are a variety of tasks and services that can help you through Instagram automation.
Scheduling and Publishing Posts
Later is one of the top platforms for Instagram scheduling and post automation. They have an awesome visual schedule viewer, which can help you to plan out content for optimal aesthetics and then auto-post certain types of Instagram content, such as single-photo posts and videos.
When you use an Instagram scheduler and publisher, you can stay more organized and have a big-picture view of how your content will look when it goes live. It helps you to stay on top of your content strategy with a more nuanced approach.
Instagram Analytics
If you don't know how your Instagram posts are performing, you can't possibly tailor your strategy to work any better. Instagram insights are available for professional and creator accounts, so you should be monitoring that regularly. If you don't have access to these insights, make sure that your account is set to a professional or creator account; you can do this in settings, and it's free.
While those are useful, it's even more useful when you have a tool that takes all of that data and automatically configures it into meaningful reports and actionable items. That way, you don't have to spend time tracking and organizing your performance data and you can have a quick snapshot of what you need to do to gain more traction through your content and engagements.
Services like Iconosquare and Union Metrics will give you beautifully-formulated graphs and data reports that include actionable items to help your Instagram strategy perform better and gain even more reach and impressions.
Pros and Cons of Instagram Automation
So, now that we've seen some different ways that Instagram automation can be used on the platform, what are the pros and cons?
It's important to have tools that help enhance your success on the platform, but you should always consider the benefits and downsides before you contract a third party service that works with your Instagram account.
Pro: Makes workflow easier. When you use Instagram automation tools on the backend, you make little tasks less time-consuming and stay more organized. This is extremely desirable, as there are many moving parts to a successful Instagram strategy and you should focus your time and energy on those more important tasks that aren't menial.
Con: Has many regulations. Instagram controls how third party apps and software interacts with the platform, so not all tasks can be automated. For instance, you won't find a content posting software that can auto-post carousel posts or Instagram stories. You can schedule them, but you'll need to manually post them live.
Pro: Understand your audience and insights. When you use an automation tool for analytics, you can gain a deeper understanding of your post performance, target audience, as well as what works best for your account. These services allow you to see easy-to-understand results and graphs, saving you time.
Con: Automation can lower your reputation. If you decide to use Instagram automation on front-facing interactions such as comments or DMs, your profile will look spammy and desperate, which will lower your reputation. What's more, having a bunch of bot followers on your account can also make you look less professional and reflects poorly on your follower base.
Final Thoughts
So, what's the verdict?
Instagram automation can be an extremely effective tool when done correctly. When you choose to automate tasks like post scheduling and publishing, as well as report creation and analytics, you are helping to streamline your workflow and take care of time-consuming tasks that have no effect on how the public views you.
When you use Instagram automation for follower growth, however, you are putting not only your reputation at risk, but your account health and security as well. Instagram doesn't allow automation to engage with users on the platform.
In short, you should find effective, manual ways to grow your following through tools like Growthoid and hashtag generators, and use Instagram automation behind the scenes to up your productivity and keep yourself organized.
All in all, be smart about the way you use it and you'll have no problems!
Even more reasons why Growthoid is the best Instagram automation tool
Automate your followers
Setup your targets and automate the results 24-7
Advanced automation targets
Specify advanced parameters and level in on relevant followers
Dedicated Account Manager
Your account manager is there to optimization you automation campaigns .
Free Trial
It's risk free, we offer a 3 day free trial to see if its right for you.
Campaign Improvements
Have your campaigns improved over time and continue to maximize the results
Reporting
Request a report from your account manager and they will give you some basic statistics
"Experience what it's like to go viral with the best results driven service available for Instagram automation."
Watch your Instagram explode with real targeted followers and results driven expectations, its time to get your profile seen by more.
Get started with a 3 day free trial, and experience for yourself what all the hype is about.
[gravityform id="37" title="false" description="false" ajax="false"]