Like every other online service, Instagram has its share of security problems.
Concerns about their children's safety are understandable, given the app's widespread use among children and teenagers.
However, hacking into their Instagram account can provide a helpful solution if done responsibly.
You might think, "Do I have to be tech-savvy or an expert coder to hack Instagram?" The answer is an emphatic no.
Numerous Instagram hacking apps are currently available, making Instagram hacking simpler than ever before.
We've compiled a list of the best 10 best Instagram hacking apps so you can access all the information you need right here.
List of The 10 Best Instagram Hacking Apps
Listed below are the ten most effective and reliable hacking apps for Instagram.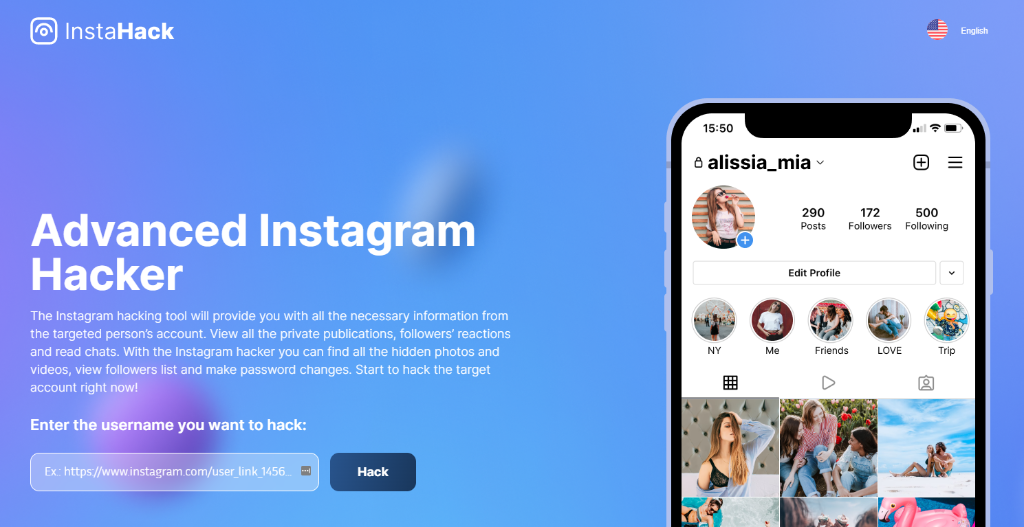 xMobi stands out as a top choice among Instagram hacking apps.
Despite the negative connotations associated with technology, xMobi makes account hacking so simple that anyone can do it.
Unlike other tools, you don't even need to download the app; all you need is the target's Instagram username, which you can enter after paying for the service on their website.
The target user won't know you're watching their account because the process is simple, quick, and anonymous.
This tool is ideal for parents who want to monitor their kids' Instagram accounts secretly.
You can access chats, follower lists, chat rooms, photos, videos, and more.
If you'd like, you can also change the account's password. Considering the seamless and efficient service provided, the price is fair.
xMobi is excellent for both monitoring a target device and hacking Instagram accounts.
You can easily track incoming and outgoing communications and block unwanted ones with features like SMS and call monitoring.
You can even lock a device if you think the target person uses it excessively.
Additionally, xMobi lets you keep tabs on social media activity on well-known websites like Facebook, Instagram, and Snapchat.
Doing this lets you learn more about the target's online habits and ensure they are responsible platform users.
Spynger is a well-known and highly regarded tracking tool that offers a wide range of features for monitoring a target device's activities.
Among its most appealing features is its recording of all Instagram activity on the target device.
It can also monitor popular apps such as WhatsApp, Facebook, location, Gmail, camera, SMS, and calls.
The app has millions of users worldwide, making it a popular way to hack devices.
One of the key advantages of using the app is that it doesn't necessitate the target phone to be rooted or jailbroken to operate.
Spynger's installation process is simple and intuitive, and the app offers various pricing plans from which customers can choose.
After configuring the device, you can track it on the left side of the dashboard and add multiple phones based on the subscription.
Its dashboard displays all critical features, such as settings, calendars, and location.
The Reports tab displays all of the device's entries in chronological order, indicating when changes, like phone screenshots, selfie unlock, and current SIM card, occurred.
Therefore, if you are looking for a comprehensive tracking tool, Spynger is undoubtedly worth considering.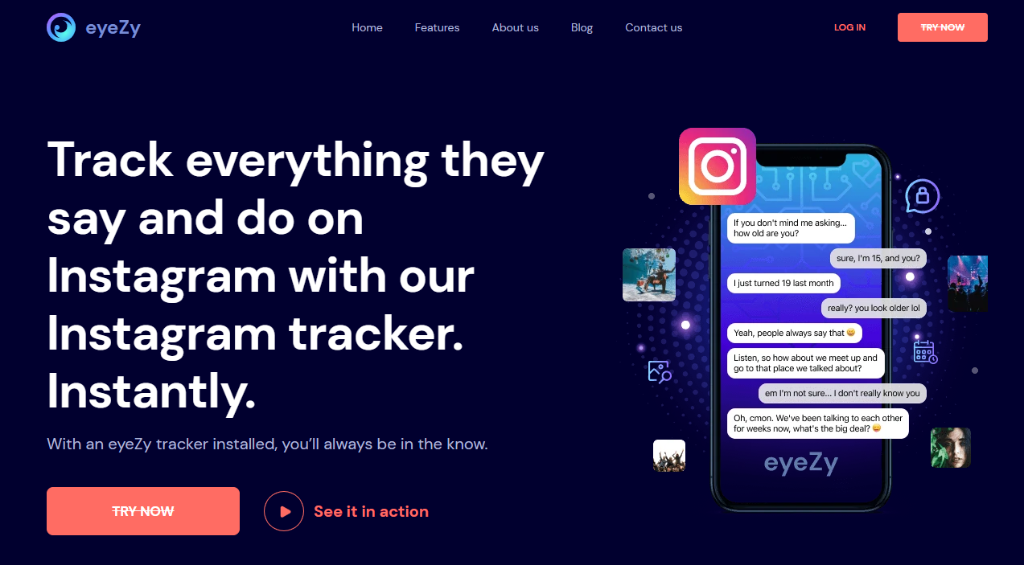 When hacking and monitoring any account, no other app compares to eyeZy. Many parents rely on eyeZy to monitor their kids' digital activity.
Social media monitoring is just one of the many features offered by eyeZy.
The platform also records keystrokes, listens to phone calls, and keeps tabs on text messages.
EyeZy's Pinpoint function is one of its most notable features; it pinpoints a device's location via WiFi analysis and GPS.
EyeZy is the best option for a cutting-edge app with a beautiful user interface. It allows for covert monitoring of multiple targets' devices from a distance.
Installing the app on the desired device is as simple as making an account, purchasing a membership, and downloading the app.
The app's control panel lets you keep tabs on the target's Instagram account, including all their posts, direct messages, and photos.
EyeZy can monitor your activity across many social media sites. EyeZy's support team is available around the clock to answer any questions.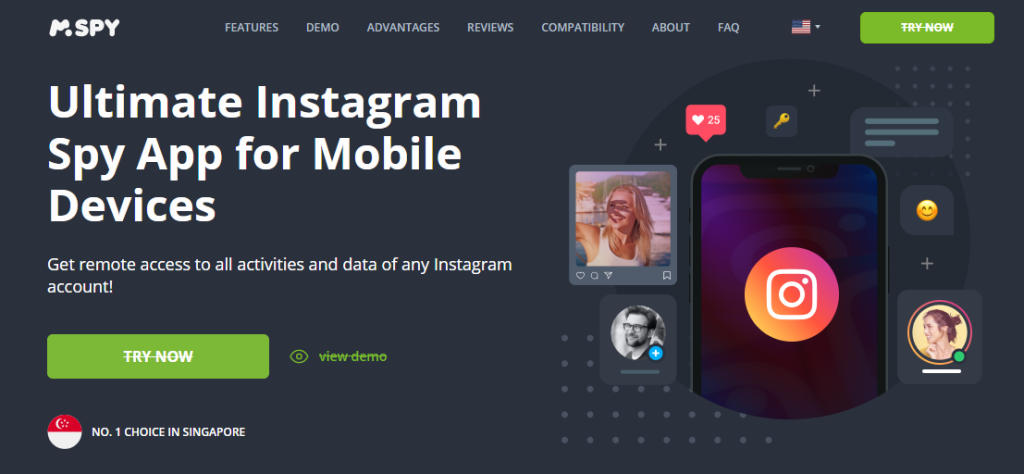 A well-known and simple-to-use tracking tool that has been around for more than ten years is mSpy.
The app is one of the most popular spying tools for iOS and Android devices because it can track and monitor social media activity on the target device, including Instagram.
The seamless installation process of mSpy, which takes just five minutes to complete, is what sets it apart.
The app can also be altered to suit your preferences and needs.
Parents who want to monitor their kids' Instagram activity in secret have many options, and mSpy is one of them.
One of mSpy's distinctive qualities is that anyone can use it without jailbreaking or rooting the target device.
Text messages, photos, videos, locations, and more are accessible through the app, which runs invisibly in the background.
You can keep tabs on other well-known social media platforms like Twitter, TikTok, Facebook, and WhatsApp, as well as look through browsing history to see if your child has visited any dubious websites.
Without having physical access to the target device, you can use mSpy to keep an eye on and block inappropriate and dangerous websites.
Additionally, the app provides a fourteen-day refund policy if you're unhappy with the service.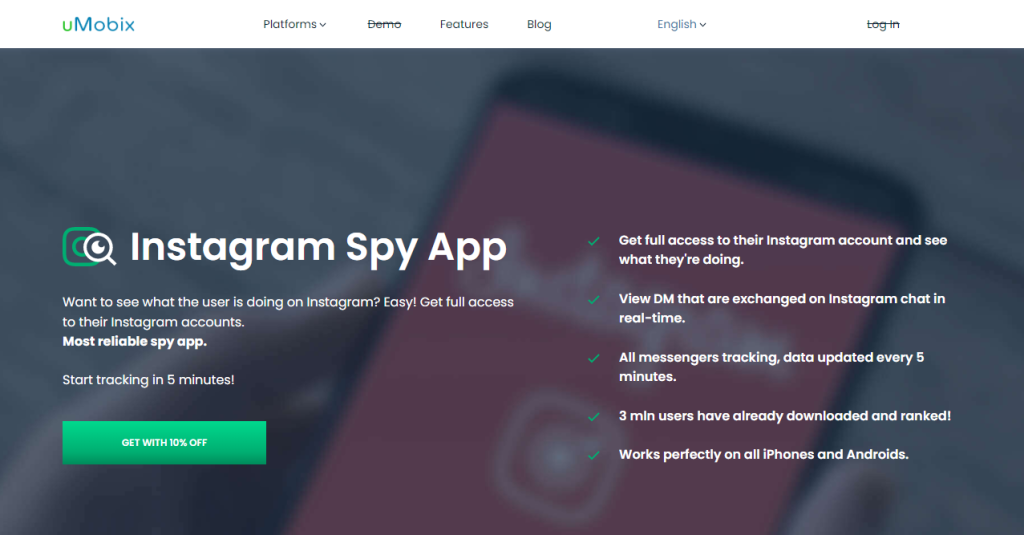 uMobix is a powerful spy app with various hacking features for Instagram accounts.
You can monitor calls, GPS locations, and even social media apps like Instagram, Facebook, WhatsApp, and more on any Android or iOS device.
One of its most appealing features is the app's ability to capture screenshots of the target Instagram account's activity, including post shares, comments, likes, and interactions.
Targeted Instagram activity can be tracked and monitored with ease using uMobix.
When keeping tabs on your social media accounts, uMobix has you covered.
It includes access to 19 different messaging and social networking apps, such as Facebook Messenger, WhatsApp, and many more.
Users can easily keep tabs on all the text messages sent and received by the target device and arrange them chronologically.
The sender's name, chat ID, and profile picture can also be obtained.
uMobix also records phone calls and conventional SMS communication.
Incoming, outgoing, missed, and deleted call information can all be retrieved with the Call History feature: every five minutes, the app syncs with the target device to bring you the most up-to-date data.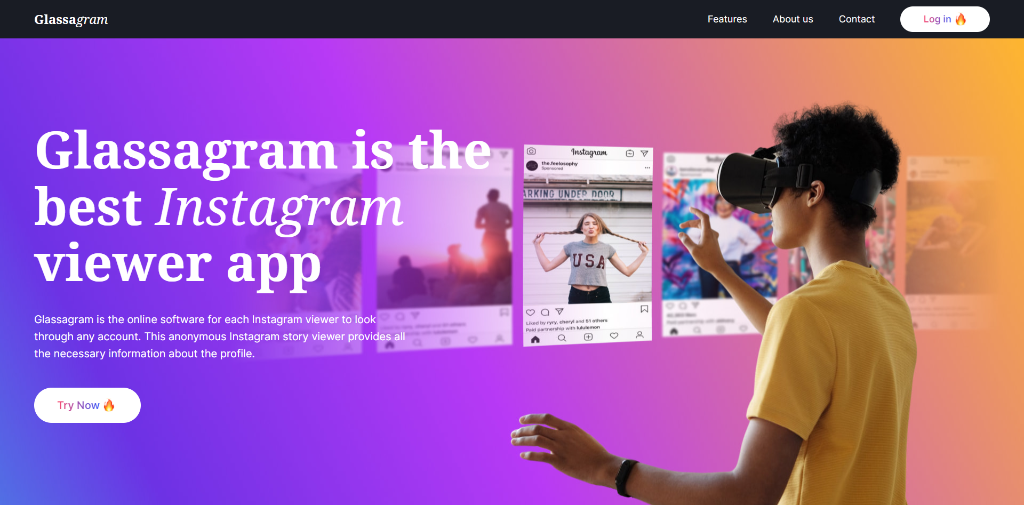 You can quickly and easily break into anyone's Instagram account using Glassagram.
This cheap app has excellent features like a location tracker that lets you see the target device's exact location and a photo of that spot on a map.
You can use it to spy on a person's private Instagram account, view who has liked their posts, and even monitor their direct messages.
Select a subscription plan, make your payment, and the app will be available for download on your Android device.
Information on the compromised phone is accessible once the two devices are synced.
The app's interface is simple, and it won't take you more than a minute to learn how to use it.
You won't miss a thing because of the regular updates every five minutes.
Glassagram is a great option to hack Instagram without breaking the bank.
The app can quickly access the user's personal and public information on the device in question.
7. Spyzie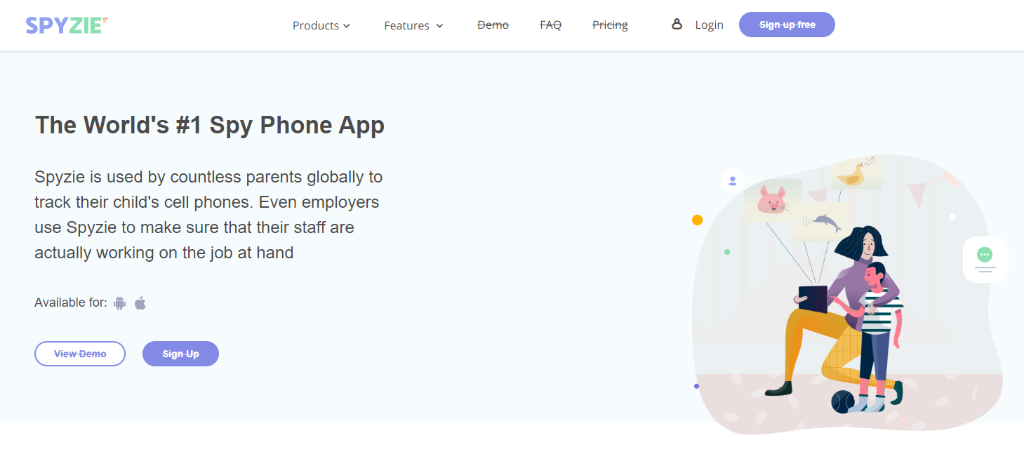 Another well-known app that lets you hack an Instagram account on both iOS and Android devices is Spyzie.
It is a simple-to-use app that doesn't require jailbreaking or rooting the targeted device, making it the perfect choice for anyone who wants to monitor someone's Instagram account secretly.
One of Spyzie's best features is its ability to let you access the results remotely without letting the target person know.
The tool is a discrete choice because it uses less space on Android devices, and you can use the iCloud ID to set it up online for iOS devices.
It has additional features like a keylogger and the ability to view other installed programs and gather information from Instagram.
Parents can use Spyzie to track their children's social media activity, including the messages they send and the contacts they interact with.
Additionally, the app has a 24/7 location tracking feature that ensures you always know where the target device is.
The app is completely hidden, so you can monitor the targeted device without them knowing, and it uses top-notch encryption to protect your data.
Additionally, customer service is accessible around-the-clock to help you with any problems you may encounter while using the app.
8. KidsGuard Pro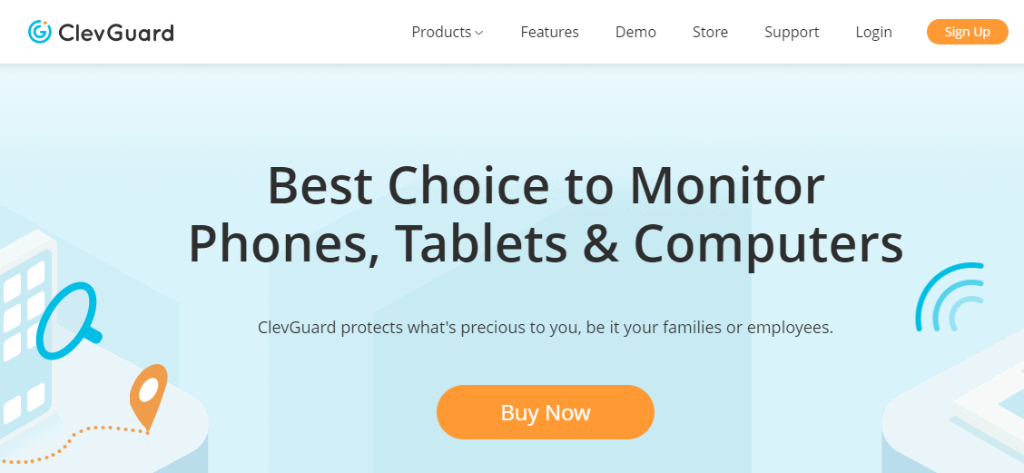 You can track the target device's location and social media activity from a distance by installing KidsGuard Pro.
You will have access to the conversation log and be able to monitor any sent multimedia files.
The app can access activity logs without rooting the device.
The use of KidsGuard Pro is not restricted to Instagram. Social media sites like Facebook, WhatsApp, Tinder, Snapchat, Telegram, and TikTok can also be watched.
It takes less than five minutes to set up and is simple to install.
Since the app uses real-time data syncing over Wi-Fi or a 3G/4G network, you can be sure that the information you receive is accurate and current.
In addition, you won't have to worry about breaking the device because it doesn't require rooting.
On the target device, the app is covertly installed; the home screen does not display it.
You can rest assured that your child's information is secure because all user data is encrypted.
The app supports multiple languages, making it available to a larger audience.
Parents can rest easy knowing they can monitor their child's online behavior with KidsGuard Pro.
9. FlexiSPY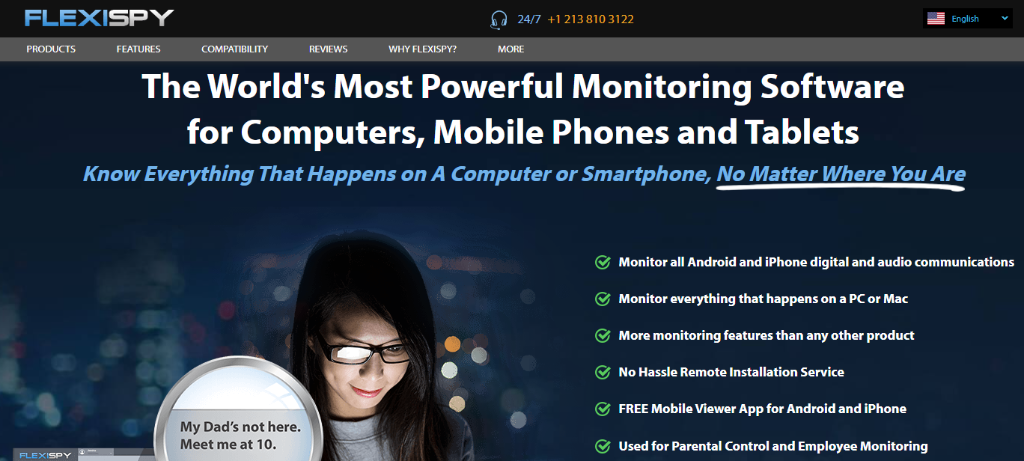 FlexiSpy is a widely-used Instagram hacking app that is compatible with a wide range of platforms and devices.
It's a comprehensive solution for keeping tabs on Instagram discussions and activity.
The installed specification of the app reveals all third-party apps on the phone, allowing you to view the activities on the targeted device.
The dashboard intuitively shows any data from the selected device remotely.
FlexiSpy has several features that will aid your hacking efforts, including the ability to record Instagram activity live.
It is compatible with many different gadgets and has many exciting features.
Instagram and other social media apps, such as Facebook and Snapchat, can be easily monitored on the target device.
The app can be used to monitor the target device invisibly due to its stealth mode of operation.
It's invisible in app stores and removes any documentation of jailbreaking or rooting.
10. XNSPY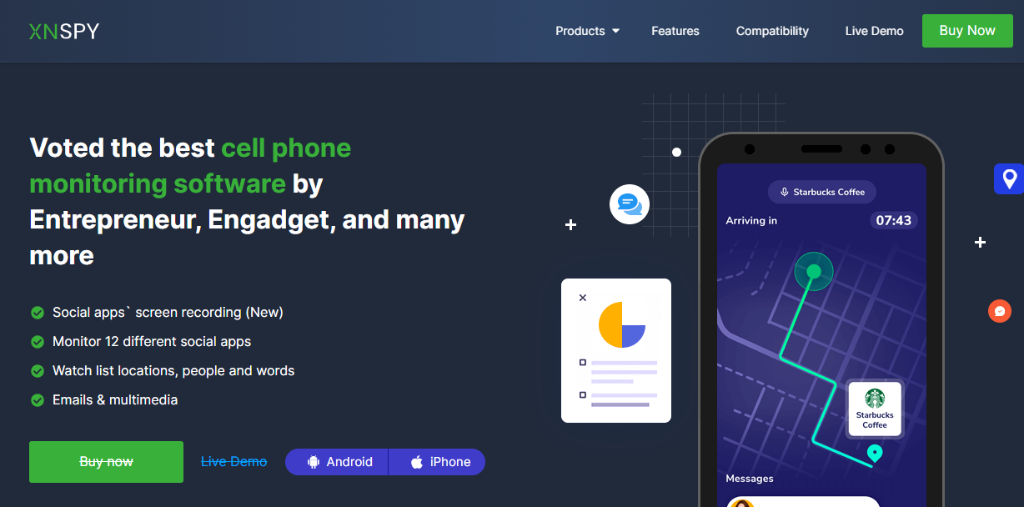 XNSPY is your go-to choice if you've been eyeing an Instagram account and want to take a closer look at it.
This app makes viewing all messages, pictures, videos, and captions connected to the account is simple.
Additionally, it has the ability to record direct messages, including any possible private conversations.
No rooting or jailbreaking is required to install XNSPY on an Android or iOS device.
But if you need more access to the device you're going after, you may need to do them.
The tool can access 11 more social media platforms through hacking; for any that can't, you can use the installed apps feature to see what other applications are installed.
It also has a keylogger that can find your Instagram username and password.
What Are The Everyday Needs To Hack An Instagram Account?
The days when internet content was limited to harmless memes and websites are long gone, and it has grown more complicated and dangerous over the years.
This is especially true on social media, where so many people have bad intentions, such as Instagram.
Therefore, protecting your loved ones on this social media site can be difficult. You may suspect infidelity if your partner or significant other has been acting strangely lately.
It's not easy to put your mind at ease when you're wondering if they're cheating on you and whether or not you should hack their Instagram to find out the truth.
As a business owner, you may be responsible for monitoring employee output.
Using hacking software, you can keep tabs on their online behavior without attracting their attention.
Remember to never access another user's account without their knowledge and consent.
Such programs are appropriate only for keeping an eye on close friends and family or trusted employees.
Using these tools to violate someone's privacy is illegal and unethical.
Conclusion
Irrespective of the motives behind your desire to monitor someone's Instagram activity, utilizing one of the 10 best Instagram hacking apps is an effortless way to achieve this.
These apps, with their advanced features, make the task of spying on another user's account a simple task, and no matter which one you choose, as long as it fits within your budget, you're unlikely to be disappointed with the results.
So, whether you're trying to keep an eye on your child's social media activities, investigating a cheating partner, or simply satisfying your curiosity, these Instagram hacking apps are a reliable and cost-effective solution.