As the years continue flying by, Instagram has maintained its popularity and has more reach than ever. With over 1 billion monthly active users, the trends that Instagram is set to see in the coming year are quite clear.
It's anticipated that Instagram reels will continue to solidify their presence on the platform, which means that brands and businesses should have content on the forefront of their Instagram strategy, looking to boost their content production quality and creativity.
It's important to have the right Instagram tools for marketers if you want to see high levels of success.
A successful Instagram content strategy is built around multiple content formats on the platform; it's not enough anymore to just offer in-feed photos and videos now and then. Taking advantage of formats like IG stories, reels, IGTV, and Instagram live should be your priority.
Not only that, if you sell physical products, you should be implementing shoppable posts and live feeds, and all brands/businesses that have external links need a link in bio web directory for optimal traffic funneling.
There's a lot to be excited about in the coming year, so in order to help you with your marketing campaign and achieve your Instagram goals, we've put together the ultimate list of the top Instagram tools for marketers that can push you to the next level.
What are Instagram Marketing Tools?
Instagram marketing tools could be pretty much any third party tool that can help you to optimize your Instagram performance and achieve better results through your campaign.
This includes but is not limited to:
Instagram video editors and creators
Link in bio tools for Instagram
Social media templates for Instagram, IG stories, and other platforms
Analytics tools
Instagram schedulers and auto-posters
Graphic design tools
Marketing reports
Shoppable post aids and contest generators
These are just some of the examples, but as you can see, you have many options when you want to expand your marketing campaigns on Instagram.
Why do all of the work yourself when there are tons of tools at your disposal that can make your life easier and your campaign better?
We can't wait to show you just what these 40 Instagram tools for marketers can do and how you can use them to skyrocket your Instagram profile to success.
Best Instagram Tools for Marketers
Below you'll find 40 of the top Instagram tools for marketers that will help you in a variety of areas on Instagram. You can decide on which tools make the most sense for your specific goals and then use them to increase your success through marketing campaigns on Instagram.
Once you begin implementing the right tools, you'll be able to generate more interest in your content, understand your performance better, and make sure that everything is optimized for your followers.
We'll discuss not only the tool but also what it does, plus notable features.
1. Linktr.ee
Linktr.ee is one of the best link-in-bio tools available for Instagram. You are able to transform your one bio link into a directory that will get your Instagram followers and viewers funneled to the right external website.
You can link to stores, social accounts, events, articles, and much more via Linktr.ee. If you don't want to create a custom look, you can use one of Linktr.ee's templates to easily make your design.
Linktr.ee Features
Customize your Lintr.ee with custom colors, fonts and images
Templates
Gain insight into your traffic through analytics
Integrate with third parties
Safe and private
Easy to manage with drag-and-drop editor
Collect payments
Link to everywhere
Use on any website
Linktr.ee Pricing
Linktr.ee offers a "forever free" plan in addition to a Pro plan for $6/month. View the features that come with each plan on their pricing page.
2. Growthoid
Growthoid is the premier Instagram growth service, allowing brands, businesses, influencers, and others to gain new relevant followers for their Instagram account. It's a must-have addition to your Instagram tools for marketers.
Using organic engagement methods through sophisticated AI technology, Growthoid implements the most advanced targeting instructions to get you in contact with the right Instagram users. You'll also see a boost in engagement rate and long-term growth.
Growthoid Features
Organic growth
Advanced targeting by hashtags, accounts, locations, and more
Account filters
Priority support
Gender filter
White and blacklist
Spam filters
Completely safe growth aligned with the Instagram algorithm
Gain real, targeted Instagram followers
Growthoid Pricing
Growthoid offers two pricing plans per month, both of which are no-contract services that can be cancelled at any time.
The Standard plan, great for those just starting out with Instagram growth or looking to test out the services, is only $49/month and comes with standard growth levels, email support, and 10 targets.
The Premium plan offers a much more aggressive growth rate and can get you premium features like blacklist, up to 60 targets, and priority support from a dedicated Growthoid account manager.
Check out both plans and their offerings on the Growthoid pricing page.
3. Iconosquare
Iconosquare is one of the top analytics tools that Instagram marketers can use to make data-driven decisions through actionable social media analytics. The great thing about Iconosquare is that they also offer services for Facebook, Twitter, LinkedIn, and TikTok in addition to Instagram.
You can save time with effective reporting from Iconosquare as well as scheduling and in-depth analytics for brands and agencies. You'll get multi-profile management from one dashboard, making it easy to manage your social media performance as a whole.
Analytics play an important role in Instagram tools for marketers, especially since you should be consistently monitoring your campaign.
Iconosquare Features
Easy-to-understand analytics with customized dashboard
Multi-profile management
Instagram scheduler including tips like best time to post, geolocation, user tagging, first comment scheduler, feed preview, and more
Industry benchmarks and competitor analysis
Quick and easy reporting and sharing
User-friendly smartphone apps
Free 14-day trial
Iconosquare Pricing
Iconosquare offers two plans that can be paid either annually or monthly. The Pro plan, at $49/mo billed annually, offers support for 3 social profiles, while the Advanced plan at $79/mo billed annually offers support for up to 5 social profiles.
Check out more about Iconosquare analytics plans on their pricing page, and test their services out with a 14-day trial.
4. Later
Known as one of the best social media schedulers and link in bio tools available, Later can help you to maximize your Instagram content creation and posting schedule, offering you a workflow that saves time and presents your profile in the best way possible.
Available for Instagram, Facebook, Twitter, Pinterest, LinkedIn, and TikTok, you can easily schedule your social media posts and make sure that you get your content out to your followers at exactly the right time.
Later is a visual content scheduler, making it easy to track your Instagram aesthetic and optimize the look and feel of your Instagram grid through previews, editing, link in bio tools, as well as user-generated content searches. If you want more effective content, add Later to your Instagram tools for marketers.
Later Features
Scheduling
Auto-posting
Link in bio tools
Multi-platform support
Instagram grid preview
Drag-and-drop functionality
Photo editor
Caption and hashtag creation
Instagram stories support
Tag users and locations
Instagram analytics
Later Pricing
The great thing about Later is that you can access their free Instagram scheduling tool; while limited, you'll be able to schedule up to 30 posts and have limited access to analytics and other features.
If you want a more robust experience, you can take advantage of one of their other paid plans, which is described in detail on their pricing page:
Basics: $8/mo
Starter: $15/mo
Growth: $25/mo
Advanced: $40/mo
5. Instasize
Photo editing apps are among the most important Instagram tools for marketers as without the right edits, your content may be unusable. Instasize is an incredibly popular and intuitive Instagram photo editing app that will help you to do many things, including layer photos, use filters, and easily resize images.
They offer over 130 filters to help your content align with your brand aesthetic and include many additional editing tools to make sure your content looks exactly as you would like it to.
Instasize Features
Filters
Layering
Resizing
Overlays
Video editor
Magic fill
Stock library
Backgrounds
Text editor
Editing tools
Touch-up tools
Web stories
Instasize Pricing
Instasize Standard is a free app that you can download for your smartphone, and you'll have access to a variety of features including original features, vintage overlays, color editing tools, and video editing.
If you want to up your content creation game, you can opt for Instasize Premium, offering you even more features at $4.99/month.
6. Canva
Graphic design should be among your Instagram tools for marketers, and we've got the best one here at spot 6 on our list. Widely recognized as the best on-the-go graphic design tool, using Canva, you can create engaging and professional-quality Instagram content and stories in just minutes with their expansive library of Instagram templates and elements to customize your content.
You can use Canva to take your Instagram content to the next level, sharing photos, videos, carousel posts, Instagram stories, and more that can boost your reputation, gain more followers, and create a unified visual in your content.
Canva Features
Ability to collaborate
Custom flowcharts, maps, and graphs
Over 1,000 free templates
Photo enhancer, cropper, and straightener
Professional print quality
Ability to order printed materials
Transparency and fade tool
Photo blur, texture, and vignette
Design icons, badges, stickers, frames, and animations
Speech and text bubble creator
Stock photos available for creating content
Logo creation
Canva Pricing
Canva can be used via desktop or mobile, and it's free to use as long as you have an account. If you want to access premium or Pro images, you can pay $1/image, $119.40/year, or $12.95/month to access the Canva Pro plan. You'll gain access to all premium visuals, additional tools, and unlimited storage.
7. Trufan
Trufan offers you the opportunity to view data that will help you to make better marketing decisions by understanding your target audience. A sort of listening tool, Trufan allows you to create opt-in options as well as discover new audiences through segmenting and filtering different industries and interests.
You can also use Trufan to drive engagement as well and access audience reports for different niches. Generating leads and building your audience data is vital, and using Instagram tools for marketers like Trufan can help you get it.
Trufan Features
Plan and execute marketing campaigns and opt-ins
Incentivize followers to give you valuable data
Find profiles that align with your target audience
Review trends
Analyze segments of your audience
Support with influencer marketing
Trufan Pricing
Trufan offers a product demo plan with limits, including a one-user test with 100-follower limit and only a handful of other features. To access all of the features with three users and unlimited followers, you'll need the Pro plan, which comes in at $2,000/year. Check out all of the features and pricing breakdowns on the pricing page.
8. Keyhole
A social listening platform that offers support with analytics and influencer marketing, Keyhole is one of the best Instagram tools for marketers when you want to create the best campaign for your brand or business.
There are many features that are available to help you in your campaign creation and monitoring, and they offer services for a variety of social networks.
Keyhole Features
Influencer tracking
Hashtag analytics and tracking
Social media account analytics
Publishing and scheduling
Keyword tracking
Social media reporting
Twitter historical data
Social media analytics API
Keyhole Pricing
After the seven day free trial that Keyhole offers, you will need to discuss your demo and talk to their team to create a plan that works for your budget. There are no available pricing plans online, so contacting Keyhole is the only way to establish price.
9. Creator Studio
The Instagram Creator Studio is a resource that makes the list of our Instagram tools for marketers because it comes directly from Instagram itself and will allow you to post to Instagram via desktop in lieu of using mobile only.
You can access the Creator Studio though the Facebook Creator Studio.
Creator Studio Features
Manage posts
Check messages
Explore insights
Creator Studio Pricing
Instagram's creator studio is free. You can only access it if you have a professional account, so you'll have to adjust your Instagram account type if you still have one that is set to personal when you want to take advantage of this tool.
10. Task Ant
Hashtags are incredibly important for discoverability on Instagram, and Task Ant can help you create the perfect hashtag strategy using analytics data from the Instagram API. You can search for hashtags using particular filters, as well as see hashtag data to understand performance and usage on the platform.
Task Ant allows you to create hashtag sets for easy posting without having to go through and redo your searches every time.
Task Ant Features
Hashtag analytics
Generate 100+ suggestions on every search
View volume and popularity
Save hashtag sets
Quick-copy to Instagram for easy posting
See the hashtags you've ranked on
Data-driven insights on hashtag use
In-depth stats
Task Ant Pricing
Task Ant offers 2 different pricing options depending on your needs. The Solo plan is $15/week and will allow you 100 results per search and 30 hashtag sets along with in-depth analysis and 3 brands.
The Growth plan is $49/month, offering unlimited everything as well as in-depth analysis and priority support. You can compare the plans on the Task Ant pricing page.
11. Boomerang
Boomerang can be accessed as a standalone app as well as from directly within the Instagram stories photo feature. The premise of Boomerang is to create short videos that are on a loop, replaying the video again and again. It's similar to the way a GIF works.
Using photo bursts to create a short video, you can create engaging and enjoyable content for your Instagram stories, reels, or in-feed content.
Boomerang Features
Available for Android and iOS
In-app camera access on both standalone app and Instagram
Share to Instagram, Facebook, and other social media plans
Boomerang Pricing
Boomerang by Instagram is free for all users, regardless of whether or not you use Instagram. It must be used on a mobile device or tablet.
12. VSCO
One of the oldest and most popular photo editing apps for Instagram, VSCO makes a great addition to your Instagram tools for marketers. Featuring loads of beautiful presets and filters for your photos, it's easy to create branded, top-quality content for Instagram.
VSCO Features
Community of users that showcase their VSCO photos
Premium content for members
Video coloring
Film emulation presets
130+ VSCO presets
Full access through subscription
Standard photo editing tools
VSCO Pricing
VSCO is free to download and use at the basic level; if you'd like to access members-only filters and content, you'll need to pay the $19.99/year subscription.
13. Repost App for Instagram
You can use Instagram reposting strategies to create more engaging content and extend your reach and impressions on Instagram. It can be very valuable to search for the right content to repost, and using the Repost App for Instagram makes it incredibly easy.
You can quickly repost content that other Instagram users' posted as well as move the attribution mark to your desired location, making sure that your followers know that the content is credited to the original poster.
Sharing great content has never been more simple, and if you so choose, you'll be able to use the original caption in your post! Definitely add this to your set of Instagram tools for marketers. Great for sharing user-generated content and inspiring posts that connect with your brand.
You can download the app for your smartphone or even use the desktop version.
Repost App for Instagram Features
Repost
Repost photos and videos
No watermark
Attribute post to the original poster
Post with multiple photos/videos
Hashtag library
Save custom captions
Schedule repost reminders
Easy-to-use interface
Repost App for Instagram Pricing
Repost is free in both the App Store and Play store.
14. Snapseed
The professional photo editor developed by Google, Snapseed can help you to ensure your content is picture perfect before uploading it to Instagram. They have over 29 tools and filters to help you adjust your content, in addition to many different brushes and the ability to save your personal looks to apply to new photos at a later time.
Snapseed Features
Open JPEG and RAW files
29 tools and filters
Save personal looks and apply to photos later
All styles can be adjusted with precise controls
Tutorial cards offer tips and tricks
High-resolution edits
Smart selective retouching
User-friendly
Snapseed Pricing
The Google photo editor Snapseed is free on both iOS and Android.
15. Awario
It's vital that brands and businesses as well as influencers have Instagram tools for marketers that allow you to monitor your presence on the web and understand how people are talking about you. Awario is a social media listening tool that does exactly what.
Awario monitors your brand so you can see what mentions and conversations are happening out there, allowing you to target any negative mentions and address them, as well as feature positive comments to help your marketing and reputation efforts.
This tool can also be great for social selling and identifying potential influencers if you're looking to create influencer marketing campaigns.
Awario Features
Monitoring around-the-clock
Analytics for mentions, reach, positive + negative comments, and more
Boolean search
Social selling
Important conversations first
White-label reports
Organization settings
Log in from any device
Awario Pricing
Awario offers a Starter plan for $24/month, providing 3 topics to monitor, 30k new mentions a month, 5k stored mentions per product, 1 team member, along with Boolean search.
The Pro plan is $74/month, providing 15 topics to monitor, 300k new mentions a month, 15k stored mentions per product, 10 team members, Boolean search, data export, as well as shareable results.
The final plan, Enterprise, costs $249/month, providing 100 topics to monitor, 1m new mentions a month, 50k stored mentions per product, unlimited team members, Boolean search, data export, shareable results, white-label PDF + HTML reports, API, as well as an account manager.
These are prices billed annually; if you want to pay month to month, you'll be looking at a price increase. Check out the pricing page for more details.
16. Feed Link
Feed Link is a link in bio tool for Instagram that can help you to get more people out to your external web pages. This tool was created by EmbedSocial, a service that helps you to embed your social media content on other websites.
You can create a clickable URL that will help you to boost your Instagram marketing strategy and direct traffic to product pages or blog posts.
You'll be able to create a shoppable Instagram feed and build new traffic directly from your Instagram account using Feed Link.
As a part of EmbedSocial, you can also use their services to create all of your Instagram posts in one clickable landing page and expand your Instagram presence on other external websites.
Feed Link Features
Generate all Instagram posts in one clickable landing page
Tag each post with a custom URL
Change your feed without changing your link in bio link
Create a shoppable Instagram feed
Embed your Instagram feed on external sites
Feed Link Pricing
Feed Link is free with limited features. They also offer a variety of different plans and packages with advanced features and increased limits. You can pay monthly or annually. Check out the pricing page to see what plans are offered and explore the EmbedSocial platform for additional Instagram tools for marketers.
17. SocialRank
If you're looking for Instagram tools for marketers that offer you audience segmentation and follower analysis, SocialRank is one of the best around. They have different filtering and sorting options, allowing brands to use the tool for location-based activations, influencer marketing, product seeding, and surprise-and-delight campaigns.
You can check out information about followers from Instagram as well as Twitter.
SocialRank Features
Sort by most valuable, most engaged, best followers, chronological/alphabetized order, and most followed
Identify popular hashtags and words among followers
Take action through saving searches, building lists, DMs, and more
Filter by city, state, or country.
SocialRank Pricing
SocialRank has a Basic plan that is free to use, giving you access to filters, follower sorting, multiple account connection, and follower profile viewing.
For $199.month, SocialRank Pro offers a more complete set of Instagram tools for marketers to help you with your campaigns, communications, and more. Pricing for an Enterprise plan is also available upon request.
18. HypeAuditor
HypeAuditor is among the best Instagram tools for marketers who use influencers. You can gain an analytical platform that will help you to research and discover different influencers, analyze different accounts, manage your campaigns, and more.
HypeAuditor has over 23 million influencers in their database and offers over 35 metrics for vetting accounts and influencers, as well as fraud detection to help protect yourself.
HypeAuditor Features
Database of over 23 million influencers
35+ metrics for influencer vetting
Fraud detection
Demographic search
Audience quality filters
Brand affinity
Audience demographics
Create a media plan for your campaign
Estimate key campaign KPIs
Understand your camping performance
Global market research
Competitor analysis
Trends and ranking analytics
HypeAuditor Pricing
HypeAuditor has a free plan that allows you to access their data in a limited way. This is mainly a subscription that allows you to test out the services and see exactly what they can do for you.
The Basic plan costs $399/month and offers a range of features to help you with Instagram influencer campaigns. You can also add on different features to the Basic plan as well as contact them for an Enterprise plan if you have a larger need.
19. Mention
Brands, businesses, and agencies can use Instagram tools for marketers with Mention in order to analyze their reputation, growth, and any associated brand content out on the web. You can track your own brand, competitors, as well as industry topics to help you understand the trends in your particular niche.
This aids you in understanding what your target audience may want and stay on top of industry demands. If you're looking to develop a more successful content strategy and PR strategy, Mention can give you all of the information you need to do exactly that.
Mention Features
Monitor over 1 billion sources on the web, social media, and reviews
Publishing, listening, and monitoring
Establish alerts to monitor brands, industries, and/or competitors
Connect social media accounts for scheduling and publishing
Dedicated account manager (certain plans)
Chat support
Automated reports
Analyze audience sentiment
Mention Pricing
Mention offers a variety of different plans. For $29/month you can access Mention's Solo plan, offering 1 user, 2 alerts, 5k mentions, and 5 connected social accounts.
$99/mo gets you the Pro plan, offering 5 alerts, 10k mentions, 10 connected social accounts, unlimited users, as well as a dedicated account manager.
Finally, you can access the ProPlus plan at $199/month with 7 alerts, 20k mentions, 15 social accounts and unlimited users. Check out the comparisons on their pricing page.
20. Buffer
Buffer allows you to easily plan and schedule your Instagram posts in advance in order to save you time. Not only do they offer you social media scheduling, but they also offer you analytics to measure your campaign performance.
The Instagram tools for marketers by Buffer allows you to effectively measure your metrics and understand where your content strategy can be improved.
Buffer Features
Share posts to multiple social platforms
Add images and videos to posts
Automate Instagram, Pinterest, LinkedIn, Twitter, and FB posting from one hub
Optimize posting schedules
Buffer Pricing
Buffer offers free services for 3 social media accounts, 10 scheduled posts, and one user. This really isn't enough if you have a strong content strategy, as you should be posting every day, if not at least 3-4 times per week.
Their Essentials plan offers unlimited scheduled posts and more for $5/month. Check out more information on their pricing page.
21. Sprout Social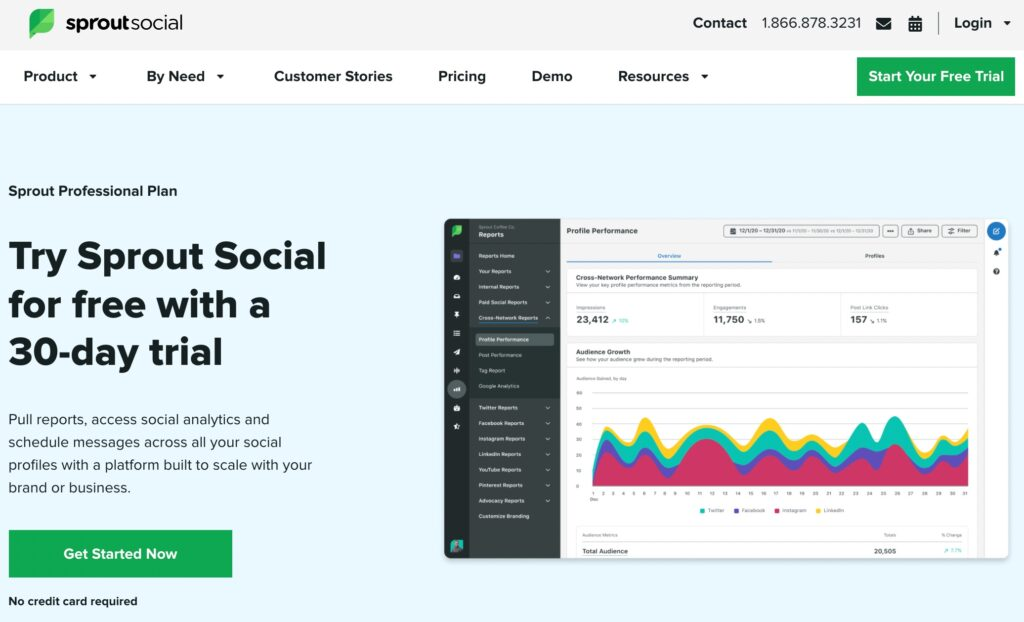 Sprout Social is a powerful multi-faceted platform that offers all of the Instagram tools for marketers that you could want. Offering tools for publishing, engagement, analytics, listening, and more, Sprout Social is ultimately an Instagram management tool.
The great thing about Sprout Social is that it gives you a hub for all of your social media platforms, giving you a full strategy to manage your social media reputation and presence without wasting time or energy.
Sprout Social Features
Sprout Social has tons of features, but here are some of the core ones:
Paid performance report
Brand keywords
Profile performance report
Trend analysis
Message tagging
Smart inbox
Advanced permissions and approvals
Security
Compose workflows
Respond to and manage conversations
Plan ahead with a content calendar
Schedule posts for a variety of social networks
Increase engagement with optimal posting times
Sprout Social Pricing
Sprout Social offers a full 30-day trial, and after that you can decide between three different plans:
Standard: $99/month
Professional: $169/month
Advanced: $249/month
You can access a discount when you pay annually, and if you'd like to check out more information about the complete features, visit the Sprout Social pricing page.
22. Crowdfire
You can use Crowdfire's Instagram tools for marketers to discover and schedule high-quality social media content. A social media management app, you can manage all of your social media accounts from one place through Crowdfire as well in order to save time in your workflow.
Crowdfire is available on mobile as well as desktop for easy access.
Crowdfire Features
Publishing tools
Advanced scheduling
Tailored posts with preview
Automatic and custom best times to post
Queue meter
Article curation
Custom RSS feed
Image curation
Relevant article discovery
Analytics tools and report builders
Knowledge base to help you learn the functionality of Crowdfire tools
Crowdfire Pricing
Crowdfire offers a Free plan in addition to three paid plans that can be paid either annually or monthly. The free plan offers support for Twitter, Facebook, Instagram, and LinkedIn, while paid plans offer Pinterest as well.
If you'd like to review the paid plans, you can visit the pricing page to see what is offered and which option may be best for you.
23. Magisto
Video is more popular than ever on Instagram, which means you need Instagram tools for markteres with a video focus. This is where Magisto comes in. You can develop high-caliber video content for Instagram using their platform. You can not only create and edit their videos, but you can also use the Emotion Sense Technology to create videos that will resonate with your audience.
Coming from Vimeo, Magisto is a top-tier video editor for Instagram.
Magisto Features
Exclusive editing styles
Full access to iStock media
Customizable colors and fonts
Video editor
Add photos and videos
Customize anything with cuts, transition, effects, and more
Video templates
Unique business styles
Distribution
Unlimited movie downloads
Insights
Commercially-licensed movie acces
Magisto Pricing
The Business Plan offers access to all features, 25 million photos and over 3 million stock videos for just $34.99/month. You'll gain priority support as well.
The Professional plan is only $9.99/month and allows you access to advanced editing features, which is usually sufficient for most brands and businesses.
If you're looking for something more affordable even still, $4.99/month will get you the Premium plan allowing you to create video stories with up to 60 videos and photos totalling a duration of 2:30 minutes.
24. Have2HaveIt
This Instagram tool turns your Instagram feed into a shoppable landing page, which is extremely useful if you sell products and want to boost revenue from your Instagram feed. Have2Have.it aims to help you drive revenue from Instagram and through your bio link.
It's simple to use on the backend and leads to more conversions from Instagram, getting people to your e-commerce website.
Have2HaveIt Features
Integrate Shopify with existing products
Build email lists
Add links to Instagram posts
Schedule Instagram posts
Embed your H2H feed
Track conversions and traffic
View user analytics
Have2Have.it Pricing
You can try H2H for free for 7 days. They also offer a free plan, but it's limited with features and users. The Performance plan costs $5/month and gives you access to more features, and Enterprise costs $45+/month. Review your options and start your trial on their pricing page.
25. Adobe Lightroom
A professional-style photo editing app for Instagram, Adobe Lightroom offers Instagram tools for marketers that can turn any photo into the next content sensation of your profile. It's an incredibly popular editor and many creators even sell Adobe Lightroom preset filters for use.
Adobe Lightroom Features
Edit, organize, store, and share content anywhere
Advanced editing made user-friendly
Brighten photos, heighten colors, and mask or remove distractions
Tips and tutorials directly within the app
Adobe Lightroom Pricing
Adobe Lightroom can be purchased individually or as a part of Adobe Creative Cloud. It's available for both desktop and mobile for $9.99/month. Other plans offer Photoshop included and prices are based on storage ($9.99 for 20GB and $19.99 for 1TB).
26. Woorise
One of the best ways to boost engagement on Instagram and get more followers is to use contests, sweepstakes, and promotions. Woorise has the perfect Instagram tools for marketers through contest building and automation.
Instead of spending tons of time planning things out manually, you can use Woorise to help move things along.
Woorise Features
Automate contest results
Distribute unique prizes and codes to contest winners
Gather qualified leeds through retweet and hashtag feeds
Track contest entries with a database that can be exported and searched
Analytics data for campaigns
Templates
Email notifications
Custom domain
Media upload
Email and chat support
Woorise Pricing
There are four plans for Woorise, with the Free plan offering 500 entries and unlimited campaigns, the Basic ($23/month) offering unlimited campaigns with 2k entries and no Woorise branding, Grow ($39/month) with unlimited campaigns with 5k entries and 10 team users + integrations, and Pro ($79/month) starting at 20k entries and the chance to increase the amount per month.
These are yearly prices; if you pay monthly, the prices will increase by 20%. See more on their pricing page.
27. PicFlow
You can never have too many Instagram tools for marketers that help you produce better content, and that's exactly what PicFlow photo editor is. You can turn your photos into a video slideshow that lasts for 15 seconds. The slideshows aim to showcase a variety of shoppable content to your Instagram followers and viewers.
PicFlow Features
Share to multiple platforms
Adjust photo duration
Add a max of 100 images
Add music
Drag to rearrange photos
Crop
Add borders and adjustments
Focus on specific elements of the image
PicFlow Pricing
PicFlow has a flat rate cost of $2.99 for iOS and Android users.
28. NapoleonCat
A social media manager that is a favorite among Instagram tools for marketers, you can save a lot of time and energy when you are managing your Instagram profile as well as other social platforms. You can do many different things, including post scsheduling, responding to social inboxes in one place, monitor hashtags, and much more.
A social media manager that is a favorite among Instagram tools for marketers, you can save a lot of time and energy when you are managing your Instagram profile as well as other social platforms. You can do many different things, including post scheduling, responding to social inboxes in one place, monitoring hashtags, and much more.
NapoleonCat Features
Schedule post in advance to multiple social accounts
Schedule the first comment
Tag users and locations
Add hashtags
Adjust image ratio
Select video thumbnail
Assign tasks to other team members
Respond to DMs on Instagram
Manage comments
Access analytics and in-depth reports
Track competitors
NapoleonCat Pricing
The pricing plans for NapoleonCat are highly relative, so it's best to visit the pricing page to figure out which one will work for you based on the number of social profiles you want support for as well as how many users are going to be accessing your account.
When you pay annually you also access better rates. The lowest price for the Standard plan is $21/month billed annually.
29. Unfold
Instagram tools for marketers should include something for the ever-popular feature Instagram stories, and that's exactly what Unfold will add to your kit. Unfold is the perfect editing tool for Instagram stories.
Offering story templates, exclusive filters and effects, Instagram feed planning, as well as bio sites for link in bio, you'll have plenty of ways to boost your Instagram aesthetic.
Unfold Features
Over 150 premium templates
25 free templates
Save story drafts for later use
Manage multiple stories at the same time
Post directly to Instagram
10 effects and filters directly within the Unfold camera
Unfold Pricing
The Unfold app is free to download on iOS and Android, giving you access to 25 different templates. You can gain 60 more templates for a premium of $1.99 per template, or access their Pro plan for $12.99 monthly.
30. ShortStack
ShortStack allows you to create and manage contests, landing pages, forms, and more. You're able to drive your Instagram engagement with their different Instagram tools for marketers and expand your leads as well as conversion with high-powered features and functionalities.
The possibilities are really endless with ShortStack, and if you need to find new and exciting ways to involve your followers on Instagram, this may be the perfect solution for you.
ShortStack Features
Contests
Email marketing
Integrations
Entries manager
Analytics
Coupon codes
Templates
Form builders
Page builders
Moderation
Custom marketing campaigns
Puzzles
Video contests
Photo contests
Instant win contests
ShortStack Pricing
You can test out ShortStack for free, and their monthly plans start out at $99/month. It may seem like quite a bit, but if you have the budget and are serious about boosting your Instagram and other social media/website offerings, it may be the best comprehensive engagement solution for you. Visit their pricing page to see other plans and options.
ShortStack offers two higher plans, Agency and Brand, plus an Enterprise plan that you should contact sales for.
31. Curalate's Like2Buy
Like2Buy dubs itself the first of Instagram marketing tools to bring shopping to Instagram. An e-commerce platform that transforms your Instagram feed into a shoppable landing page, brands can easily get their followers and viewers over to their online store for increased conversion and revenue.
Like2Buy Features
Connect with shoppers outside of Instagram
Collect user data
Build relationships and create look-alike audiences
Segment social campaigns
Pin high-performing posts and ongoing campaigns
Enable email capture
Customizations for branding
Reporting
Like2Buy Pricing
Pricing ranges for Like2Buy go anywhere from $10 per month to $100 per month for basic plans. More advanced plans range from $500 to $1,000 per month that include many more features for your marketing efforts.
32. DashThis
If you're seeking Instagram tools for marketers that help you to understand performance and analytics, DashThis is a great option. Especially good for marketing teams, agencies, executives, small businesses, freelancers, and franchises, DashThis will give you additional insight into your marketing campaigns.
DashThis Features
Create custom report templates
Use preset report templates
Clone reports
Bulk editing and dashboard creation
Unlimited access to client accounts and data sources
Over 34 native integrations
Easy-to-read visual reporting
Share work and automate report distribution
Automate reporting
DashThis Pricing
You can save yearly on DashThis as opposed to monthly billing. The basic breakdown of price when paid annually is as follows:
Individual: $33/mo
Professional: $109/mo
Business: $209/mo
Standard $339/mo
For more details on the features and functions per plan, visit their pricing page.
33. AdEspresso
AdEspresso offers you the opportunity to identify your ideal audience through ads on Instagram as well as Facebook and Google. Hootsuite powers AdEspresso, and we'll discuss more about Hootsuite down below.
AdEspresso Features
Manage your advertising
Create ads and campaigns in a central hub
Analyze campaign data and results
Collaborate on clients' accounts when needed
Learn through a rich knowledge database
Easily test ads for Instagram, Facebook, and Google
Adjust placement, timing, and audience
Make adjustments based on actionable daily in-app tips
AdEspresso Pricing
With three pricing tiers and a 14-day free trial, you can optimize your ads performance on Instagram easily. The Starter plan costs $49/month and offers essential features.
The Plus plan works with unlimited ad spend and offers a wider range of features for $99/month.
Enterprise offers all features of other plans plus even more sophisticated features for your Instagram campaign, including a dedicated consultant, priced at $259/month.
34. Loomly
You can build a successful brand with the Instagram tools for marketers offered by loomly. Able to collaborate, publish, and measure all in one place, you'll find a range of useful integrations with other social networks, including Facebook, YouTube, Slack, Snapchat, and many more.
As you can see in the next section, Loomly is an incredibly feature-rich social media management platform.
Loomly Features
Easy collaboration with notifications for updates
List view and calendar view
Post overview
RSS feeds
Twitter trends
Events, holidays, and date-related celebrations
Best practices for social media
Custom post ideas
Media storage and asset view
Unsplash and Giphy integrations
Posts and ad preview
Hashtag manager
Loomly studio
Approval workflow
Community management system for comments and DMs
Loomly Pricing
Loomly offers a free 15 day trial for all plans. There are five total plans at the following prices for annual payments:
Base: $26/mo
Standard: $59/mo
Advanced: $129/mo
Premium: $269/mo
Enterprise: request quote
Visit their pricing page for more details about the features included in each respective plan.
35. Gleam
Gleam is one of the Instagram tools for marketers that is helpful for capturing leads and boosting engagements through contests on Instagram. You can reach your target audience more effectively and seamlessly create contests that bring you big results.
It's easy to integrate with Instagram and can make your profile more fun and draw attention from your audience. There's also a rewards program that can help to increase customer loyalty.
Gleam Features
Run competitions
Add your prize and choose your actions
Drive sales through predefined actions to gain an instant reward
Social galleries
Email capture
Templates and apps for a great user interface
Gleam Pricing
Gleam pricing varies depending on what apps you want to use for your marketing campaigns; you can find competitions for as low as $10/month. The complete package costs $97/month. Check out their pricing page for more details.
36. Renderforest
Renderforest allows you to create a strong brand image and impeccable aesthetics through their different graphic design offerings. You can create product mockups, edit videos and use stock videos with templates, create a website, and much more.
Renderforest Features
Access to hundreds of thousands of stock videos
Logo creation
Mockups
Website creation
Color customization
Link sharing for presentations
Customize your videos with templates, fonts, and more
Renderforest Pricing
Renderforest offers a handful of different subscription plans, the cheapest being free and the most costly being $49.99/month when billed annually.
You can also pay per product, as they have many different individual features that you can access if you don't need their full set of Instagram tools for marketers. Explore their plans and packages more on their pricing page.
37. Pablo
It is sometimes tough to come across completely free Instagram tools for marketers, but the great news is that Pablo is one of them. You can create social media posts using the fun editor that also offers you templates and stock images for use.
With the ability to edit size, filitesr, text, logs, and add in different images and templates, you can take your content creation to the next level at absolutely no cost. Pablo is a tool created by Buffer, which we mentioned on our list earlier.
Pablo Features
Stock images
Templates
Different sizes for different social media networks
Filters
Text and photos
Upload your own images
Add a logo or graphic
Share and download to anywhere
Pablo Pricing
Pablo is free. Yipee!
38. Hootsuite
Hootsuite is one of the most well-known Instagram tools for marketers and all things social media. Hootsuite offers social media scheduling and a comprehensive suite of Instagram tools to help you take your IG management, reach, and growth to the next level.
Hootsuite Features
Create and schedule posts
Manage a range of social media channels all in one place
Calendar view
Content planner
Promote your content from directly within the dashboard
Access image assets directly from the Hootsuite dashboard
Social media monitoring and listening
United inbox for DMs and comments
Collaborate with team members
View analytics
Learn from an expansive knowledge database
Hootsuite Pricing
Hootsuite offers a 30-day trial for their Professional ($49/month billed annually) and Team ($129/month billed annually) plans.
For their larger plans, Business ($599/month billed annually) and Enterprise (request quote), you can request a demo to see exactly how their service will work for you. Check out their pricing page for an in-depth comparison of each plan and respective features.
39. Websta
Websta, also known as Webstagram, is another of the Instagram tools for marketers that helps you to track and analyze your different social media profiles. You can gain access via desktop or mobile web browsers.
The user interface is very simple and straightforward but gives a lot of valuable information to understand your reputation on Instagram.
Websta Features
Growth statistics
Engagement rate
Average likes and comments
Export to PDF
Compare
Track any account (great for viewing influencers and potential partners)
Filter by date
Account stat summary
Future projections for followers and uploads
Reporting
Websta Pricing
You can access a range of different information via the free tool, but if you want access to certain "pro" data you can upgrade via SocialAuditor. Websta also only works on public accounts, so make sure that your account is public or set to a professional account if you want the tool to work for you.
40. Instagram Insights
We couldn't leave out the Instagram tools for marketers that were developed by the platform itself! If you've got a business or creator account, you can take advantage of the in-house analytics that Instagram itself provides for your account performance.
You can also see valuable information about your target audience, which helps to inform your Instagram strategy.
Instagram Insights Features
See insights on your posts, stories, videos, reels, and live broadcasts
Understand audience demographics like age, gender, and location
Find out when your audience is most online
Track growth in engagement and followers
See reach and impressions
Instagram Insights Pricing
Instagram insights is part of the Instagram app, so it's completely free. You can switch your account type to a professional account for free. It's likely that if you're reading this, you've already got a professional account, but just in case, head over to your Instagram profile and follow the steps:
Menu > Settings > Account > Switch to Professional Account
The option is all the way at the bottom and from there you'll enter a few different pieces of information about your account and your professional endeavors, after which your account will be ready to go for Instagram insights.
Final Thoughts
With so much potential to reach your target audience, generate leads, boost revenue, and build a strong reputation, Instagram is a must-have social media platform. Make sure that you optimize your strategy by implementing a variety of these Instagram tools for marketers.
Taking your graphic design to the next level, analyzing your performance at a deeper level, editing your content in new ways, gaining more Instagram followers, overhauling your hashtag strategy, and so much more is right at your fingertips when you use these excellent tools.
Give yourself the best chance at success on Instagram and reach all of your goals this year!