There's no denying that hashtags are one of the most important elements of social media; since their Twitter debut in 2007, they've been the godfather of content discoverability on all social networks.
Using hashtags when posting on Instagram allows your content to be seen by new users that are looking for content in your niche. A proper hashtag strategy is a must-have for anyone looking to expand their content reach on Instagram and get noticed by more users.
In addition, hashtag use will likely boost your engagement: it's been shown that posts on Instagram with at least one hashtag see 12.6% more engagement compared with posts that use none.
Finding the right hashtags for your Instagram content is vital; you want to use hashtags that are relevant to your content but also used by a large amount of your target audience so that you can increase brand visibility and get more engagement.
If you're curious on where to start, we've created this guide to help you find the perfect trending hashtags on Instagram according to your niche.
We've also added some tips on using hashtags at the end, so don't miss it!
Let's get started.
Trending Food Hashtags on Instagram
The food niche on Instagram is popular among food bloggers, chefs, restaurants, and more. Here are the top 10 hashtags that you should keep an eye on for the food niche.
#food
#foodporn
#yummy
#foodie
#delicious
#goodeats
#dinner
#breakfast
#homemade
#lunch
So, which of these 10 trending Instagram food hashtags should you incorporate into your content without a doubt? #food is obviously one that links directly to the niche, and since we love a good foodie post on Instagram, it's not likely to go out of style in the near future.
Some of these hashtags are pretty general, so it may be a good idea to add a unique element to them that relates it to the particular food market— you can add words to make them more targeted, like #foodNYC or #delicioussandwich.
When doing so, you want to research the trending hashtag you've created to make sure it's got a wide enough audience base to be seen by users on IG.
Trending Fitness Hashtags on Instagram
The fitness niche on Instagram is one of the most popular, and there are almost an infinite number of hashtags to go along with it. Some of the most used fitness hashtags include:
#fitness
#fitfam
#workout
#gym
#gymlife
#bodybuilding
#fitnessmotivation
#crossfit
#yoga
#fitnessmodel
By using the right trending hashtags for fitness on Instagram, you can get your content noticed by more users in your target audience. There are so many different types of people looking for fitness inspo on Instagram, so your target audience can be as big or as small as you want it to.
Another popular hashtag for fitness accounts is #transformationtuesday; if you run a fitness account, this could be a great feature either for your own personal journey or for the journey of your clients.
Also, when posting particular types of workouts or fitness content, tailor the hashtag to reflect the content type and include a hashtag that categorizes the workout.
Trending Travel Hashtags on Instagram
One of the most popular and desirable niches on Instagram, there is no shortage of travel hashtags to boost your content on Instagram. Some favorite travel hashtags include:
#travel
#travelgram
#traveling
#travelphotography
#travelling
#travelblogger
#traveler
#traveller
#traveltheworld
#travelingram
Because Instagram offers such a multimedia visual platform, the travel industry has taken to Instagram to showcase their resorts, properties, tours, and so much more. Inspiring wanderlust is easy to do via Instagram.
With COVID hitting the industry hard, there's been a shift in current travels to future travels from many of these brands, which is something that can remind your audience that they will be traveling again one day and shouldn't limit their possibilities.
Keep the positivity high and keep throwing out awesome content that allows people to see the day that they can once again travel; they'll have tons of bookmarks to start making those travel plans, and your IG post could be one of them when you use the right #traveling hashtag.
Trending Beauty and Makeup Hashtags on Instagram
Another heavy-hitting niche on Instagram is the beauty and makeup niche. There are plenty of incredible makeup tutorials and transformations that can be shared, and if you're looking to get your beauty blog or YouTube channel in circulation, using Instagram hashtags to reach more people can be well worth it.
Here are the top trending hashtags for beauty and makeup content on Instagram:
#makeup
#makeupartist
#makeupaddict
#beautyblogger
#makeuptutorial
#makeupbyme
#makeuplook
#makeupoftheday
#makeupjunkie
#makeuplover
While these aren't the only possibilities, it does show that you can remain relatively simple when it comes to your makeup and beauty hashtags and still get seen. Be descriptive in terms of what your content offers; you can use a combination of the above tags to get your content out there.
In addition, if using a particular product name, tag the product as well as use a hashtag with the product name. When you do this, you increase your chances of getting shared by the brand or featured on their Instagram account.
Trending Fashion Hashtags on Instagram
Some of the most popular fashion hashtags presented by Oberlo include:
#fashion
#fashionblogger
#fashionista
#fashionable
#fashionblog
#fashionstyle
#fashionweek
#fashiongram
#fashionaddict
#fashiondiaries
These are some of the most popular Instagram fashion hashtags to date, but old favorites like #instastyle or #OOTD might still be useful in gaining traction for your Instagram fashion content.
One great thing about the #fashiondiaries hashtag is that it's followed by a lot of users and can engage users, helping them to create their perfect looks through inspiration and fashion content.
You can continue to strategize and look for niche-relevant fashion tags by making them more specific; consider the type of style you post about and also your location to tailor your hashtags even more.
Trending Entertainment Hashtags on Instagram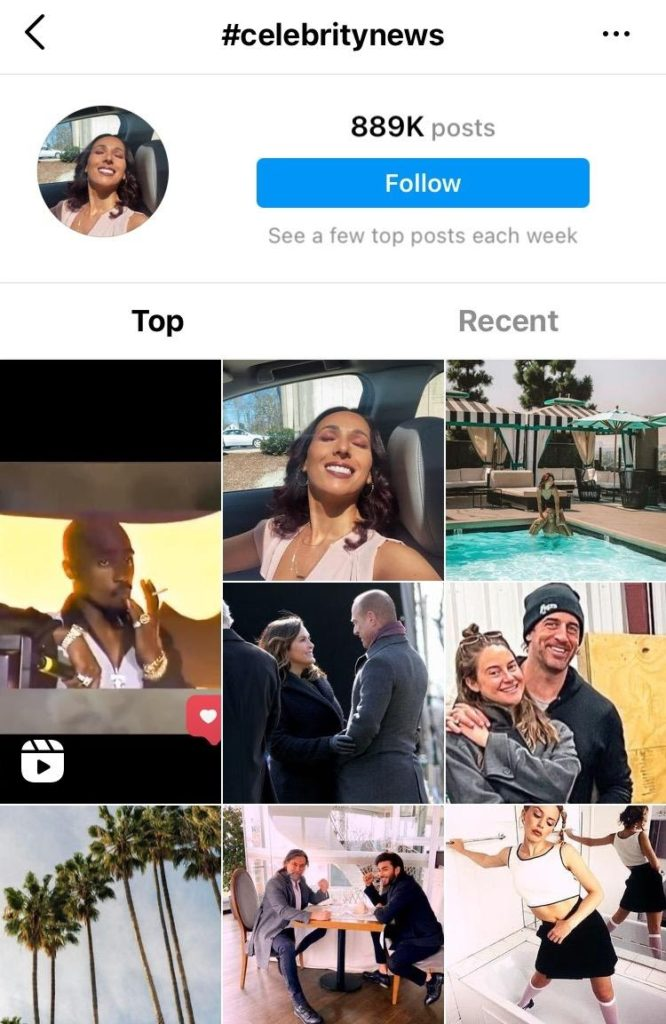 One of the main reasons why people love Instagram so much is because it gives us access to celebrities and public figures on a more personal level. If you're trying to drum up interest in your product or posts by making connections with the entertainment world, or trying to get your entertainment company off the ground, these hashtags are for you.
Here are the best Instagram entertainment hashtags:
#celebritynews
#onlineentertainment
#talkshowhost
#podcast
#update
#entertain
#entertainer
#updates
#stageshows
#interviewer
If you have an entertainment company or have created the next best podcast or video series, you want to use some of these tags to generate interest in what you've created and get your project in front of people looking for new things to view or listen to.
Film companies, podcasters, local DJs, theatres, and more can get more followers and engagement on Instagram through using hashtags, leading to more real-world business results.
You want to continue to use tags that are relevant to your market; for instance, if you're a theatre, don't use #podcast in your content unless you actually have a podcast that's connected to your theatre.
Trending Business Hashtags on Instagram
Business has become synonymous with Instagram, so it's no shocker that there are a ton of businesspeople flocking to Instagram to create a presence for themselves. Here are the top business hashtags on Instagram.
#business
#businessman
#businesswoman
#businessowner
#businessowners
#businessmentor
#businesswomen
#businesstips
#businessminded
#businesslife
One of the most popular content types in this industry is to give tutorials or tips to help people further their own business efforts, comparing motivation and feel-good advice.
In order to generate more interest in your business Instagram account, share some pro tips with #businesstips and get yourself some credibility as an expert in the field.
You can also use #businessmentor of #businessowner when you want to share words of wisdom or motivation to your followers. Many entrepreneurs are looking for tips and motivation to take their business game to the next level.
Trending Lifestyle Hashtags on Instagram
We all love to see our dream lifestyle played out on Instagram, and there is no shortage of lifestyle bloggers and content creators that will deliver the goods. If you want your lifestyle content to reach more people, consider using the top lifestyle hashtags on Instagram.
Those hashtags include:
#lifestyle
#love
#life
#instagood
#lifestyleblogger
#goodlife
#motivation
#fashion
#inspiration
#follow
As you can see, the lifestyle hashtags are incredibly broad and can even bleed into many other niches on Instagram. This is because lifestyle, in general, is a very generic and non-specific niche.
For that reason, you should use additional tags that help to specify what type of content you're posting; furthermore, you can include the tag #lifestyle on every post and then add a few tags that define more clearly what type of content can be seen in the photo.
Trending Music Hashtags on Instagram
With tons of music creators sharing their content on Instagram, here are the top 10 music industry hashtags on Instagram:
#music
#musician
#musicartist
#musica
#musically
#musicvideo
#musical
#musicislife
#musicians
#musicproducer
You definitely want to engage your audience by showing them what goes on behind-the-scenes; show them what it's like before you get onstage or give them some insight into how you write your music using #musiclife.
In addition, don't forget to feature your particular type of music style or the instrument you play; people may be searching for those if they're interested in that type of music.
You can also tags like #femalesinger or #rapper if you want to show people your persona and your particular role in your musical creation. #musicporducer also does well.
Trending Retail Hashtags on Instagram
Instagram is a huge authority when it comes to commerce and retail, so if you find yourself in this niche, using hashtags to get your content seen by more people is something you should definitely be doing.
Here are 10 top retail hashtags for Instagram:
#retail
#shopping
#fashion
#wholesale
#design
#business
#marketing
#retaildesign
#onlineshopping
#visualmerchandising
Retail companies can give themselves a competitive advantage on Instagram with hashtags like #shopping and #retail. These are general, so your content will get out to millions of Instagram users.
It's not uncommon for consumers to search these hashtags to find new products to buy; alternatively, you can use a specific hashtag to represent your product so that it will appear in hashtag feeds about that product type.
For instance, if you sell #handmadefurniture, you can use that hashtag to get your content into that feed and seen by potential furniture buyers.
If you've got any e-commerce options (which many do, especially because of COVID), using the tag #onlineshopping can help get your content in front of those that want to shop from the comfort of their own home.
Trending Sports Hashtags on Instagram
Sports maintain huge popularity levels all across the globe, and people often reference Instagram to get sports news and photos quickly and efficiently. Here are the top 10 trending Instagram hashtags used for sports:
#sports
#sport
#fitness
#football
#NFL
#basketball
#NBA
#training
#soccer
#gym
You'll see that general tags like #sports and #fitness are popular here; anyone who is interested in maintaining their level of fitness, be it a regular IG user or an athlete, can be part of the target audience here.
If you're promoting your sports reporting, you can use a tag like #gameresults or feature the particular sport with the word results. If you're selling sports gear, tailor your tag to reflect the sport and/or team name as well as when you're selling.
Always remember to keep your hashtags in line with your target audience and particular sports niche so that it's seen by the right users.
Trending Animals Hashtags on Instagram
We can't forget our furry friends— they're a popular feature on Instagram! With so many cute animals that have their own Instagram accounts these days, we're going to share the top Instagram animals hashtags for your posting pleasure.
#animals
#animalphotos
#animalsofinstagram
#animallove
#wildlife
#pet
#cats
#dog
#animaladdicts
#animallovers
It's been shown that posts featuring pets and animals tend to get more likes and engagement, so if you've got one at your disposal, use it in your content and make someone smile!
It's also common for people to create Instagrams dedicated to their pets, looking for sponsorships or brand partnerships. There are pet accounts that have thousands or even millions of followers!
You can also use hashtags that are specific to your breed, such as #frenchiesofinstagram or #goldenretrieverlife.
Trending Home and Garden Hashtags on Instagram
There are some truly terrific houses and properties out there, and we love to see them on Instagram! People frequently look to Instagram for inspiration and ideas on how to decorate their homes and gardens, so here are the top home and garden hashtags to get your content seen.
#homeandgarden
#homedecor
#garden
#home
#interiordesign
#interior
#gardendesign
#gardeninspiration
#homesweethome
#gardening
These hashtags fit nicely within the home and garden niche, so it's no surprise that they are all well-reflected here. You can also consider specifics when posting about particular interior elements, such as what kind of material used (#marblekitchencountertop) or what type of flower you've got in the garden (#summerroses).
Because you're literally describing things that you see in the photos, it's a lot more straightforward when finding effective home and garden hashtags than it is with other creative and quirky hashtags in other niches.
Keep your hashtags simple, to the point, and as beautiful as the decor in your photos!
Trending Parenting Hashtags on Instagram
Parenting is something that most people will experience at some point in their life; whether you're a new parent, a parent-to-be, or someone who just loves to get the inside scoop on family life, here are the top trending parenting hashtags on Instagram.
#parenting
#parenting101
#parentingmemes
#parentingquotes
#mommies
#parentingsupport
#gentleparenting
#parentinggoals
#parents
#newparent
In general, the parenting hashtags that work well are pretty simple because they're very unique to this particular niche. The most popular, #parenting, is straightforward and will get your content seen by anyone curious about this topic.
All of these hashtags are very distinct in terms of use as well, for instance, if you want to target new parents, you can use #newparent; if you're looking to share wisdom or support for parents, you can use #parentingsupport or #parenting101.
Choosing the right hashtags depends on how specific you want to be and what type of viewers you want to attract to your content. Or, maybe you want to share a funny #parentingmeme or #parentingfail, something most people will relate to!
Top Instagram Hashtags of All Time
Curious about which hashtags are the most popular and trending of all time? These hashtags are actually best left out of your Instagram content, simply because they have such a high post density that your content is likely to be missed.
When you use an overly popular Instagram hashtag, your content will get pushed down the Instagram feed too quickly; this means that nobody will even end up seeing your content, which is a wasted hashtag that could have been niche-specific.
Using them once in a while, however, can be a nice way to show that you've studied IG hashtags and have knowledge about which ones have been popular over time. It'll also help you to reach a wide range of people (assuming that the post gets seen).
Here are the top Instagram hashtags of all time:
#love
#instagood
#photooftheday
#fashion
#beautiful
#like4like
#picoftheday
#art
#happy
#photography
These tags certainly showed the huge networking potential of hashtags— another one, the notorious #TBT (ThrowbackThursday) is still going strong every time that day of the week rolls around.
If you want to get some engagement, you can use tags like #like4like and #follow4follow to show other users that you're willing to reciprocate follows and engagement for those that do the same for you.
So, even if you don't get a lot of reach through the hashtag, people who see your posts will know that you're open to liking and following in return, helping you boost engagement and follower count.
How to Use Trending Instagram Hashtags Effectively
The whole purpose of hashtags is to reach more users on Instagram with the hopes of getting more views, engagement, followers, and even customers.
When you use a hashtag on your post, your post will be included in the hashtag feed— a set grouping of all content that uses a particular hashtag.
Users can search and even follow these hashtag feeds, allowing your content to be seen by people who don't follow you on Instagram.
Here are some of the top tips to help you use trending hashtags the right way on Instagram.
Use Relevant Hashtags
While trending hashtags can get your content in the umbrella of your niche, you want to ensure that the hashtags are specific to what your content is actually about. For instance, if you're a restaurant located in Los Angeles, use hashtags that will get your content under the eyes of users in the Los Angeles area.
Keep a good balance of trending hashtags and targeted niche hashtags to get your content seen by your optimal target audience.
Keep a Public Account
In order for your hashtags to work, you have to keep your account set to public. If you have a business or creator account, you won't have another option— it's required for these account types to maintain a public account.
If you haven't set your account to business or creator, you definitely should; you can then have access to Instagram insights that will give you valuable information about your Instagram account performance as well as target audience.
When your account is set to public, it will appear in all hashtag feeds connected to the tags you post; if it's private, it will only appear to your followers, which, as you can guess, limits your profile visibility substantially.
Use a Hashtag Tool
There are plenty of hashtag tools out there that can help you search for and generate the most relevant hashtags for your niche, including sites like Task Ant, Tailwind, For Display Purposes, Hashtagify, and many more.
When you use these tools, you can find targeted hashtags that are optimal for use in your specific niche, find important performance metrics about the hashtags, as well as organize them into sets for easy posting.
Position Your Hashtags Just Right
You can use hashtags in a variety of ways in your captions on Instagram; you can mix them into your captions, or use them at the end of your caption. You can even separate them from your caption completely using the enter button.
If you don't want them directly in your caption, you can post them as the first comment on your post and you'll gain reach for your content just as you would if you'd posted them within your caption.
To boost engagement even more, make sure you create engaging captions that include a call to action; ask your followers a question, tell them to like, or even to share. The more you can connect with your followers, the better engagement your posts will get.
Track Your Instagram Insights
You should monitor how your content performs on Instagram through Instagram insights; you can see how many likes, comments, saves, and shares your content gets, how much reach and how many impressions it got, as well as understand vital information about your target audience.
The more you track how your content performs, the better you can decide how hashtags are working for you. Keep in mind that your content will influence its performance, so try to track similar types of content with similar hashtags in order to determine what's working well for you.
How to Create a Hashtag that Will Start Trending in 2022
Another popular Instagram hashtag strategy is to create a branded hashtag for your content and work to get it viral.
How? Start with a small, memorable branded hashtag and use them on all of your posts. Promote your hashtags in all of your content, including Instagram stories, and encourage users to post content using that hashtag as well.
When you do this, the hashtag feed will begin to grow and you'll start to see that there is a whole new resource for people to check out your brand and how users interact with it.
It may even become a trending hashtag!
Take the #shareacoke campaign, for instance. Coca-Cola is a global brand, but wanted to prompt more users to interact with their social media network and get a base of user-generated content to feature on their page.
They then created the #shareacoke campaign and instructed IG users to post with that hashtag whenever they had relevant content. What happened?
There are now thousands of posts including the #shareacoke hashtag, totalling 645k! This is a great example of how a brand can generate a lot of interest in their product and even prompt users of Instagram to get involved with their product.
Another great way to get your hashtag going viral is to attach it to a current event or trending topic. If you can generate interest around your product in the most relevant way possible, it's likely more users will see it.
Final Thoughts: Trending Instagram Hashtags
Trending hashtags are invaluable when it comes to developing a hashtag strategy, and using the right ones will take your content to new heights of reach and engagement.
You should consider mixing them with niche-specific hashtags as well as the right captions and positioning for optimal results; analyze how your content performs and keep expanding from there.
There are so many things that hashtags can do for your overall Instagram presence, so develop something that works for you and run with it!
What hashtags do you love using for excellent content performance? Let us know your niche and hashtag choices in the comments!