Instagram has been around since 2010, and it's come a long way since it became the world's favorite way to share photos with friends and family. Now, it's much more multi-faceted, and is a fan favorite among marketers, influencers, businesses, and more, all looking for ways to make a name for themselves on their platform.
This has led to a huge culture of feigned perfection on Instagram. Phrases like "do it for the 'gram" and "Instagram ready" simply solidify the fact that oftentimes, if you want to be taken seriously on Instagram, you have to appear to be pristine and perfect, sharing the "highlight reel" of your life, business, or workplace.
While Instagram has made connection much easier, it's also applied a ton of pressure to people from all walks of life to post only the most perfectly-staged photos, eliminating all traces of flaws or issues. Filters, lighting, and now even editing apps have distorted our reality as seen through the lens of Instagram.
It's a lot of fun to post on Instagram, even in lieu of these seemingly impossible expectations. If you're on Instagram for business, it's likely that you've experienced this pressure at one time or another. Creators, influencers, business owners, public figures, and even the hottest celebrities are not immune.
This immense pressure from Instagram culture itself has led to the newfound popularity of Finstagrams. Curious?
Read on.
What is Finsta?
A Finstagram, also called "finsta" for short, is the blend of both words "fake" and "Instagram." It means that a user has created an anonymous, or "fake" Instagram account for a variety of reasons, one of those including unfiltered posting opportunities and the chance to just simply enjoy the platform without expectations.
Finstas give us a window into content that is unfiltered, blurry, and perhaps even inappropriate. This includes selfies, funny life moments, and more.
You may think that you need a ring light and exactly the right angle to impress on Instagram, and if you're looking to maintain a strong reputation, you may very well need to do that. A Finsta allows you to live in the shadows for a bit and take a break from all that.
This is in contrast to the term "Rinsta," which is your "real" "Instagram." So, we've got Finsta and Rinsta.
You may not even know who is behind a Finsta in many cases. For example, Cole Sprouse takes pictures of fans trying to snap a photo of him, and uploads it to his Finsta account, @camera_duels.
He posts the photos and creates funny and lighthearted captions. This is a much more relaxed way for him to enjoy Instagram and share content that doesn't have to stick directly to his personal and professional image.
It can be overwhelming to have to be "camera ready," or "on," all the time, which is what many users of Finstas have claimed. You'll be able to do virtually anything you want without having to worry about the judgement of others.
Who Has a Finsta?
So, who has a Finsta, anyway? You'd be shocked to find out that many more people have one than you think.
The majority of people who have Finstagrams were created by teens and young adults. They are basically digital natives of Instagram and have lived most of their lives with the platform as a primary outlet for communication with the world.
Most Finstas have low follower counts and are there for casual browsing. Many people want to protect their identity and not have to worry about their every move being scrutinized.
Normal young people may be the majority behind Finstas, but there are plenty of people in business as well as in the public eye who may browse under the guise of a Finsta just for peace of mind and a bit of privacy.
Why Do People Have a Finsta?
We've already discussed a couple of reasons above, but let's dive into the main reasons why someone would want to have a fake Instagram account.
1. To Follow Brands or People Anonymously
Just as you have the Incognito browser feature on Chrome, some want the same browsing capacity on Instagram. When you use a Finstagram to follow people and like their content, they'll never know who is truly behind the engagements.
This is also a great option for those who don't want others to see who they actually follow. This is a tactic that's often used by brands and influencers to scout out potential collaborators and check things out before they connect an engagement directly to their professional account.
In addition, influencers and public figures create Finstas so that they can follow their friends and family, posting more private content and seeing the content from the people that they love. They can actually see the content and not have it attached to their public account.
This can be especially useful if a person with a substantial following doesn't want their friends and family to be identified or harassed from being in the public eye. It also maintains relevancy and keeps the right type of users on your professional feed. After all, family and friends come from all walks of life— ones that might not fit in with a particular brand image.
2. Browse Instagram and Post Content Freely
Being an influencer, business, brand, celeb, or anyone else on Instagram can be pretty tiring. You've got to post constantly, make sure everything is "on brand," and only share things that are perfectly curated for your aesthetic. One wrong move and it can be a bust.
While the best content creators make it look so easy, it's actually an extremely tiring and time-consuming endeavor that takes a lot of planning and organization. It's no wonder that people want to open up a Finsta to be able to break away from that for even a few minutes.
Working on Instagram and having an online presence is basically a job that goes on 24/7. There's no space for this type of "unbranded" content on professional accounts, so Finstas have saved the day.
Sometimes people just want to post what's on their mind, no matter if it's perfectly angled, filtered, or acceptable by the general public. Photoshoots, on the other hand, typically take photographers, lighting setups, outfit changes, and editing to make sure it's "Instagram ready."
Finstas make it easier for people that are in the limelight to share content with family and friends only, not worrying about what fits with their Instagram image and what makes their Instagram followers happy.
3. Avoid Issues with Employer or Family Members
Privacy can be a big concern with platforms like Instagram, and there's been a longstanding consensus that you should keep your Instagram content "appropriate" so that no one can make judgements about your character or your responsibility level.
There's no doubt that Instagram, Facebook, and other social media networks lack a certain level of privacy, especially if you're already in the public eye. When an employer or family member searches for a user, they can easily find them, and find out a lot about them based on their Instagram.
The government can even make determinations about you based on your social media profiles if you're ever involved in a crime, as a perpetrator or victim.
In order for people to avoid this, they've created Finstagram accounts so that they can post whatever content they want and hide from certain family members, employers, or even a crazy ex.
4. Less Peer Pressure
It's not uncommon for many people using social media networks such as Instagram to seek out approval from peers as well as validation. Tons of users try their best to become more famous on Instagram and even look to go viral.
Anyone is susceptible to this, and no matter what your status is on social media, you can find yourself under a lot of pressure to meet expectations and live up to what people have in their mind. People who need a break from that may use a Finsta.
In the past, people didn't have access to you at all hours of the day; now, Instagram allows people to search for you whenever they feel like and they can make judgements on you.
Finstas relieve some of this pressure and help people to just be themselves and take a break from the overly public nature of Instagram, hiding away for a bit and enjoying Instagram however they want.
5. Post Raw and Unfiltered Experiences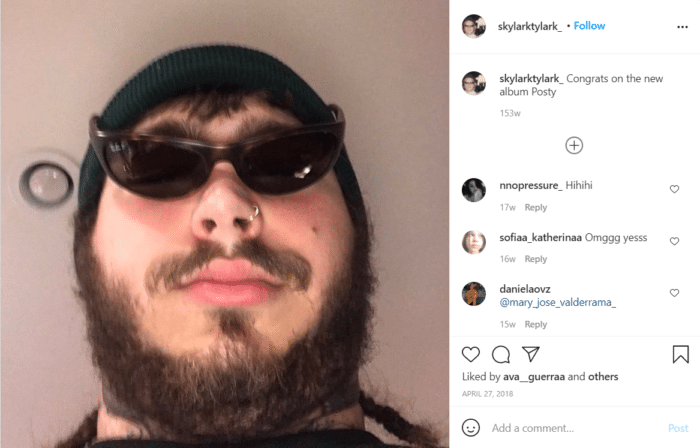 If you've been around throughout the trajectory of social media, you likely remember a time when it wasn't a requirement to think about all elements of your Instagram or other social media post. You could take a picture, post it up, and it would be ready to go.
Now, you've got to think about filters, editing, angles, and so much more. Finstas often show off content that's raw and unfiltered, coming straight from the user's camera roll. This is a huge level of freedom and weight off of many, to know they can share without judgement from those they know.
Sometimes you need a bit of a break from the obviously fake realm of Instagram; the good news is that many users with a platform are starting to address the reality of these editing apps that can completely transform something that's real into something that never even existed at all.
Imagine a photo of you and your friends at the Eiffel Tower with not a single soul in sight? A photo where you can have the perfect skin, hourglass figure, and a full face of makeup right after rolling out of bed?
These apps skew what is actually attainable in life, and when you browse Fintsagram accounts or use one yourself, you can break away from this mold and experience a more real version of Instagram. Ironic, isn't it?
Final Thoughts: The Finsta Phenomenon
While you may never know if you're actually engaging with someone's Finstagram account, they're all over the platform. The users behind them could be teens looking for a little less peer pressure, famous people wanting a more personal connection with their friends and family, or anyone else who wants a break from the public nature of Instagram.
Finstas give you a more straightforward way to portray your real life without the social pressures that exist on these types of networks, and if you try to do so on your own page, there can be some consequences.
Your photos from the latest frat party or your crazy night out downtown might be available to your employer. Perhaps the content you post may be controversial for the supporters of your business, or your picture perfect image could be diminished by photos that don't align with the brand you have built as an Instagram influencer.
If you're looking for an outlet for your own life and want to maintain some privacy, using a Finsta is an easy way to do so. They've become a sort of escape from the "reality" of Instagram, and while Rinstagrams are the most common, Fisntagrams may just be even more real.
Looking for a way to grow your real Instagram account and attract more of your target audience? Growthoid can help! Check out the free trial today to see just how organic growth can benefit your Instagram account.